Overview
Power
Utility
Performance
Comfort
THE PROVEN UTILITY SNOWMOBILE.
The 550 WideTrack LX offers over-snow utility in this proven, easy-to-use and easy to maintain machine. The dependable two-stroke engine, convenience of electric start, outstanding on and off-trail steering and control, plus various cargo options, make this sled a reliable partner to get the job done!
The 550 Fan Engine delivers for any type of work environment. The dependable two-stroke engine with NiCaSil-lined cylinders provides impressive power in a lightweight package. And start your sled with the turn of the key. Nothing beats the ease and convenience of electric start.
This snowmobile is engineered for hard work. Haul gear with the durable rear cargo rack that offers 3000 sq. in. and 75 lbs. of cargo capacity. Also, with 2250 sq. in. of storage capacity under the seat, there's enough room to store gloves, tools, rope, goggles, jackets, beef jerky — you name it. And you can choose to ride solo or with a second passenger thanks to a quick-adjusting backrest that requires zero tools to make the adjustment. And lastly, the hinged tow hitch allows for greater versatility and better towing.
ON OR OFF-TRAIL PERFORMANCE
The strong, lightweight PRO-Float Skis provide outstanding off-trail flotation and unmatched on- and off-trail steering and control. PRO-Float skis are 9.5" wide and offer a combined surface area of 410 sq. in., more than 45% greater than Polaris PRO-STEER skis. These skis feature a unique dual, stepped keel design that provides more responsive deep snow handling as well as outstanding handling on the trails. The upturned rear edge accommodates backing up over obstacles, and the serrated top of the ski provides traction for a rider's boot.
COMFORT FOR HARSH ENVIRONMENTS
The 550 WideTrack LX provides proven and dependable utility, but also boasts comfort and convenience features for a long of day of work in harsh environments. Featuring a wide & tall standard 20" windshield that helps keep the elements moving around you, adjustable hand warmers, tool-less adjustable back rest, PERC® reverse to reverse out of tough spots, and standard 12v outlet to charge your electronics.
This sled is the best choice for a comfortable and stable off-trail riding experience. Its passenger seat and storage rack make hauling cargo simple!
Select Color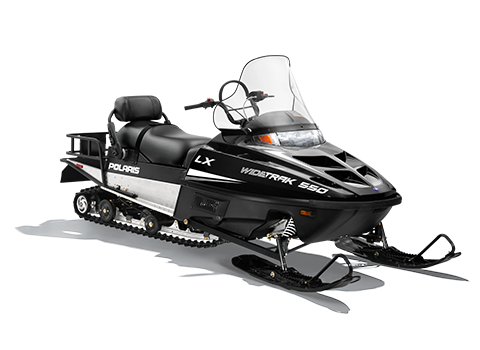 Key Specs:
Two-Stroke Lightweight Fan Engine
613 lbs. (278 kg)
20x1.56x1.00 Shockwave Track
Nitrex front & rear shocks
RMK Hydraulic disc brakes
73x65 Bore X Stroke
11 gallon (41.6 litre)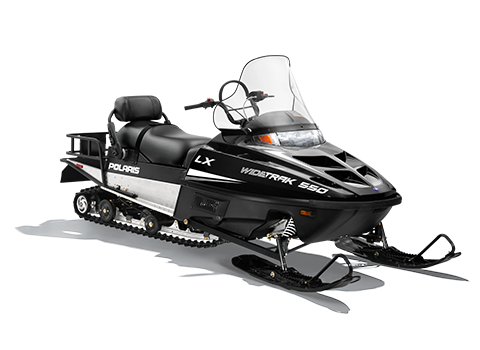 Key Specs:
Two-Stroke Lightweight Fan Engine
613 lbs. (278 kg)
20x1.56x1.00 Shockwave Track
Nitrex front & rear shocks
RMK Hydraulic disc brakes
73x65 Bore X Stroke
11 gallon (41.6 litre)
Power
Engine Type
Two-stroke Fan Cooled Engine
Cylinders Displacement
544cc
Drive System Type
H/L/N/PERC Transmission
Suspension
Rear Suspension
Widetrak Articulated