GENERAL XP 4 1000 Crossover Land Survey, Restoration & Research Package
This package includes a GENERAL XP 4 1000 Ultimate with RIDE COMMAND.
Vehicle colors are subject to change by model year.
---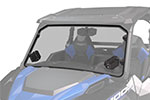 Lock & Ride Full Vented Windshield- Hard Coat Poly
Seal out the elements and keep your cab clean and protected with our Full Vented Hard Coat Poly Windshield, made from lightweight polycarbonate and a scratch-resistant hard coat.
---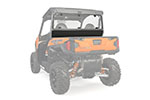 Lock & Ride Rear Panel- Poly
Keep the elements and unwanted noise out without limiting your rear view vision. This Lock & Ride Rear Panel - Poly is an affordable option for those looking for a durable and high visibility solution for additional cab enclosure for their Polaris GENERAL.
---
Designed to protect the upper hood, front fascia and headlights from damage due to unsuspecting trail debris and work-site obstacles. Corrosion resistant black powder-coat finish is designed to withstand the toughest off-road conditions.
---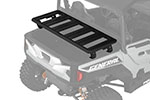 Rhino-Rack® Rear Bed Rack
This industry-first partnership delivers unmatched load carrying versatility for your side-by-side. No more tools bouncing around in your cab or bed because this rack can be equipped with a wide variety of versatile attachments that protect and secure your load no matter what the terrain brings.
---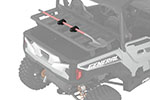 Rhino-Rack® Multi-Purpose Tool Holder
The Multi-Purpose Tool Holder's rubber inserts protect your tools against the vibration of the ride. These holders can hold a wide variety of long, narrow items like a fishing rod, ax, shovel, rake, post hole digger, or a paddle.
---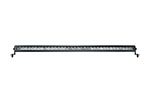 Pro Armor 40" Single-Row Combo LED Light Bar
The Pro Armor 40" Single-Row Combo LED Light Bar delivers extreme performance, with two rows of high-intensity LED fixtures and combination optics for an extremely versatile beam pattern.
---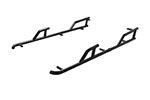 4-Seat Extreme Kick-Out Steel Rock Sliders, Black
Take on any terrain with the added protection of these heavy-duty, steel tube Rock Sliders tailor-made for the GENERAL 4. The large 1 ¾ in. diameter, 14 ga. steel tubes are mounted to absorb unsuspecting impacts when engaging the most rugged terrain, yet won't impede ground clearance.
---
Rhino-Rack® is a registered trademark of Rhino Rack Australia Pty Limited.