RANGER 1000 EPS Standard Wildland & Trail Maintenance Package
This package includes a RANGER 1000 EPS.
Vehicle colors are subject to change by model year.
---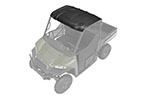 Poly 3-Seat Sport Roof with Lock & Ride Technology, Black
Lightweight rigid plastic construction for longer-lasting performance. Lock & Ride Technology for tool free installation, removal and cleaning.
---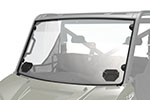 Hard Coat Poly Full Vented Windshield with Lock & Ride Technology, Clear
Windshield seals out the elements with crystal clear vision. With a frameless design, you have maximum visibility and the added vents are located at the bottom of your side-by-side windshield, allowing for adjustable airflow on a hot day or defrost on a cold day. Lock & Ride technology allows you to install it when you need to and remove it when you don't—quickly and easily.
---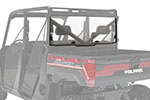 Lock & Ride Rear Panel, Poly
The easy to install and remove Polaris Lock & Ride Rear Panel - Poly is an affordable solution with durable polycarbonate material, good looks and excellent performance.
---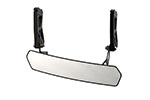 Wide- Angle Rearview Mirror
The wide viewing angle and large 2.5" x 14" convex mirrored surface gives you a full spectrum view, and the rugged stamped steel construction is designed to withstand the rigors of off-road conditions.
---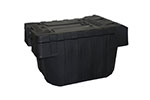 This bed storage box is built for big jobs and has enough room to store all the tools you need to get the job done. Internal organizational dividers keep gear from rolling around. The box easily detaches from your vehicle, when needed.
---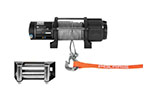 Polaris HD 4,500 lb. Winch
This winch features a durable steel cable, steel roller fairlead and convenient wired remote.
---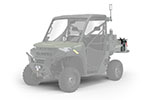 Attach or detach a chainsaw quickly with this Lock & Ride® Chainsaw Mount. THe mount it can be secured to the outside of the bed wall in seconds, without tools, so your chainsaw is within reach at all times allowing you to maximize the bed space for other cargo.
---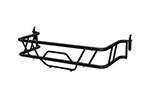 Lock & Ride Bed Extender/Divider
Increase your cargo capacity by either extending the rear of your cargo box beyond the tailgate for additional UTV storage or dividing the cargo box to keep cargo separate and organized. With Lock & Ride technology, this RANGER storage accessory easily installs or removes in seconds, with no tools needed.
---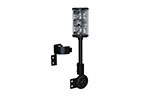 Add 50 feet of illumination 360° around your vehicle with this revolutionary Work Beacon LED Light. Mounted to the vehicle on the rear of the ROPs, easily hinge the light up during use and hinge it down when in transit.
---