Overview
Attachment Options
Power
Suspension
Comfort
DIESEL POWER. INTEGRATED PTO. FULLY ENCLOSED CAB.
The BRUTUS™ HD PTO Deluxe is the most versatile diesel side-by-side utility vehicle in its class. With a PTO-powered front-end attachment system to transform from one vehicle into an entire fleet you'll getting more done in less time and for less money. Work comfortably all day and in any weather with the factory-installed climate controlled cab.
ATTACHMENT'S FOR YOUR POLARIS BRUTUS
BRUTUS HDPTO is the first in its class to offer front-end PTO capability. The high-efficiency, mechanical PTO delivers smooth performance directly from the engine to front attachments. And the innovate Pro-Tach™ system allows quick connection and disconnection of front-end implements so you spend less time gearing up your vehicle and more time on the chore at hand. Plow and blow snow, move dirt, level surfaces, lift pallets, mow lawns or large fields, and sweep sidewalks with over 10 attachment options. Contact a Polaris sales representative for assistance in helping you build the perfect machine.
DIESEL POWER WITH HYDROSTATIC TRANSMISSION
The BRUTUS HD PTO is powered by a 1028cc Kohler 3-cylinder overhead cam liquid cooled engine. This proven, high performance diesel engine utilizes indirect injection that delivers smooth power and reduced combustion noise. The automatic overhead camshaft design also reduces mechanical drivetrain noise. And like nothing else in its category, BRUTUS lets you travel in forward or reverse with a single pedal, without ever shifting gears or taking your hands off the wheel.
MULTI-LINK COIL OVER DE DION SUSPENSION
As the first side x side utility vehicle to use this work-grade suspension, BRUTUS delivers a smooth ride far beyond what the competition can offer

—

with or without a load.
Superior Comfort and Ergonomics
The BRUTUS cab delivers outstanding driver and passenger comfort — including tilt steering with the highest range of motion (10'), extra leg room, and easy cab entry to get in and out quickly. The cab offer sound-dampening doors with hinged windows that control the air flow or close off the cab for the fullest protection from the weather.
Diesel power, hydrostatic transmission, available all-season climate control & optional front attachments to create new levels of productivity.
Select Color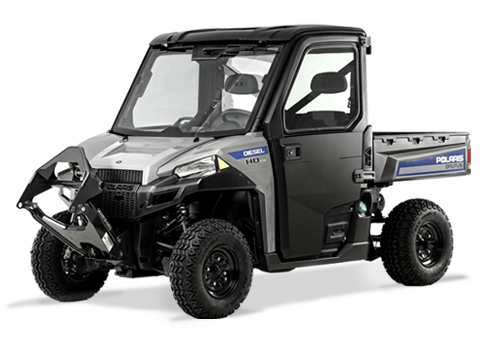 BRUTUS™ HDPTO DELUXE - Avalanche Gray
Key Specs:
Automatic Hydrostatic with Treadle Pedal (H/L/N/Park)
On-Demand All Wheel Drive /2WD /VersaTrac Turf Mode
3-Cyclinder Diesel
Multi-Link Coil Over De-Dion Suspension 6" (15.24 cm) Travel
2148 lb ( 974 kg)
110 Amp Alternator
2250 lb (793.8 kg) Payload Capacity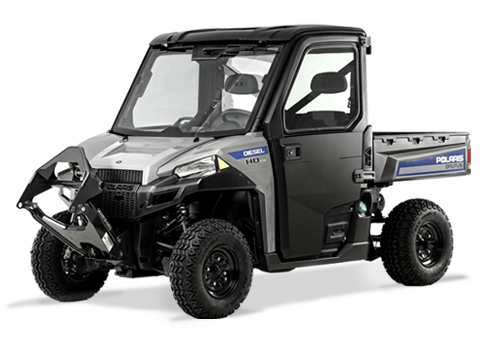 BRUTUS™ HDPTO DELUXE - Avalanche Gray
Key Specs:
Automatic Hydrostatic with Treadle Pedal (H/L/N/Park)
On-Demand All Wheel Drive /2WD /VersaTrac Turf Mode
3-Cyclinder Diesel
Multi-Link Coil Over De-Dion Suspension 6" (15.24 cm) Travel
2148 lb ( 974 kg)
110 Amp Alternator
2250 lb (793.8 kg) Payload Capacity
BRUTUS HDPTO DELUXE
SPECS
Power
Engine Type
Kohler 3-cylinder liquid cooled engine
Cylinders Displacement
1028cc
Transmission/Final Drive
Automatic Hydrostatic with Treadle Pedal (H/L/N/Park)
Suspension
Front Suspension
Dual A-Arm 6 in (15.24 cm) Travel
Rear Suspension
Multi-Link Coil Over De-Dion Suspension 6 in (15.24 cm) Travel
Agility
Drive System Type
On-Demand True AWD/2WD/VersaTrac Turf Mode
Rear Tires
25 X 9-12; CARLISLE ALL-TRAIL II
Rear Tires
25 x 11-12; Carlisle All-Trail II