Industry-Leading Sustainability
The RANGER EV is a Sustainable Option For Your Needs, Delivering Unique Advantages of Electric Power.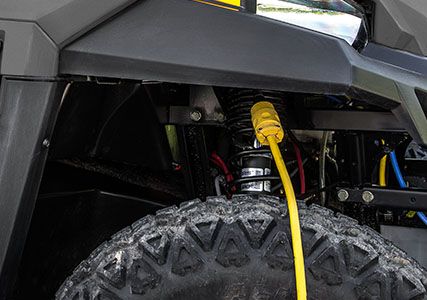 An exhaust-free machine for operation inside facilities or outdoors. The RANGER EV never needs gas and requires very little maintenance.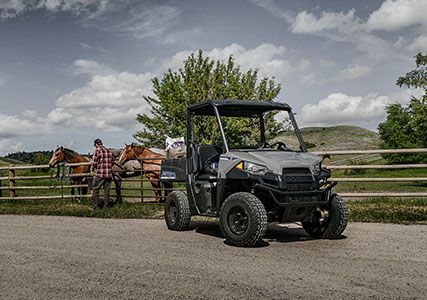 A powerful machine for operating quietly indoors or cleanly outdoors.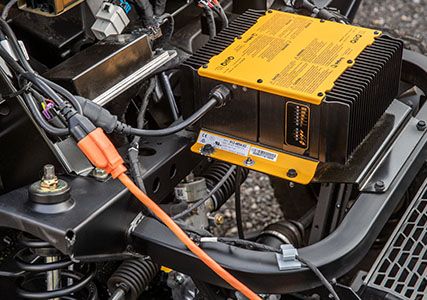 The strong 30 HP/48V alternating current (AC) power supply offers superior efficiency and range compared with competitors.
Know at all times the battery life, so you can precisely plan a day's work.
Industry-Leading Work Performance
The RANGER EV Works Harder Than Any Other Electric Vehicle in Its Class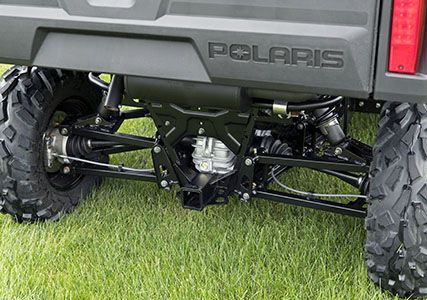 With the Polaris true AWD advantage, all four wheels engage automatically when your vehicle needs more forward traction and reverts to 2WD when it doesn't. When in 2WD, the VersaTrac Turf Mode switch unlocks the rear differential for easier, and tighter turns.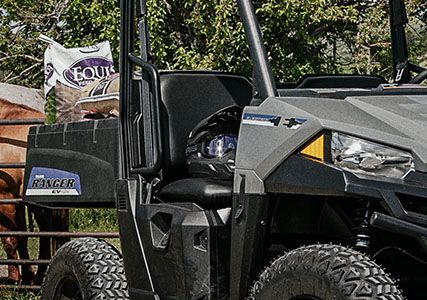 Now with 1,500 lb towing capacity and standard 2" receiver, RANGER EV allows you to tackle the toughest jobs with confidence. Additionally, a 1,000 lb payload capacity is highlighted by a rear box that can tote up to 500 lb of materials.
Add four-season versatility to your RANGER with a Lock & Ride Pro-Fit cab system. Designed exclusively with, and for, your machine, Polaris Engineered cab components fit perfectly, install easily, and seal tightly to keep the elements out and you protected.
Industry-Leading Smoothest Ride
The RANGER EV is Engineered to Ensure A Smooth Ride on Every Type of Terrain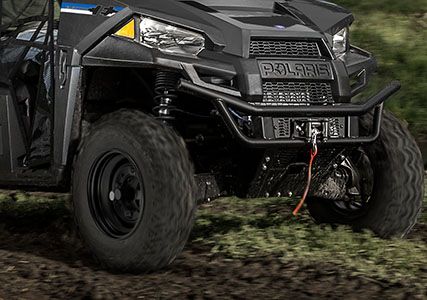 A full 9" of suspension travel in the front and 9" of independent rear suspension travel in the back.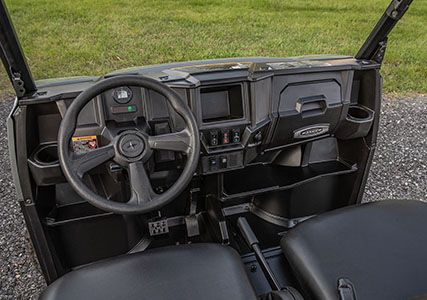 RANGER EV is designed with an ideal seat height combined with wide foot clearance for easy entry and exit. Plus, bench seats are updated and engineered for all-day comfort.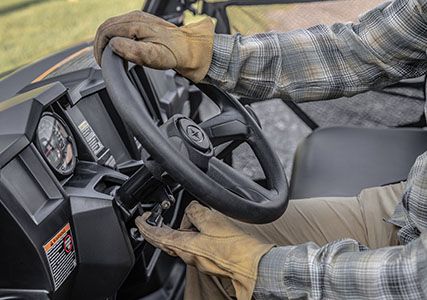 Utilize the tilt steering to adjust the position of the steering wheel to help with easy entry and exit from the vehicle.