( / )
Overview
Power
Suspension
Agility
Accessories
Overview
ENGINEERED FOR NARROW TRAILS
Featuring 45 HP and a 50" width, the RZR® 570 delivers narrow-trail capability for any type of work environment. Check out all the features of the RZR 570!
Power Features
PROVEN POWER FOR TRAIL WORK
The purpose-built ProStar® 570 Engine was developed with the ultimate combination of high power density, excellent fuel efficiency, and ease of maintenance. This engine delivers the power of a twin cylinder but the efficiency of a single cylinder to take on any job on the trail.
Take on the Trail's Terrain
RZR has been refining trail suspension for over 10 years, and the RZR 570 features the proven front and rear Dual A-Arm suspension system. This system delivers the ideal combination of a 50" trail-width and maintains an ample 9 inches of suspension travel for a smooth ride over those bumps and rocks all day long.
BEST AWD IN THE INDUSTRY
Keeping You In CONTROL
Agile handling is key to trail work, and that starts with all-wheel drive (AWD). Our competition-beating True On-Demand AWD System maximizes power to all 4 wheels, keeping you in control and on your line through the tightest corners and loosest terrain.
COMPETITION
Competitive models square off the corners, causing the rear to swing past the normal turning radius.
Make it Your RZR®
Are you looking for Polaris Engineered accessories to make this the perfect off-road vehicle for your organization's needs? With over 1.6 million combinations of RZR accessories, we have the right package for you. Contact a Polaris sales representative for assistance in helping you build the perfect machine.
Specially designed narrow-trail efficiency for an off-road experience in any type of work setting.
Select Color
The essential off-road capability of the RZR 570, plus the premium EPS trial package.
Select Color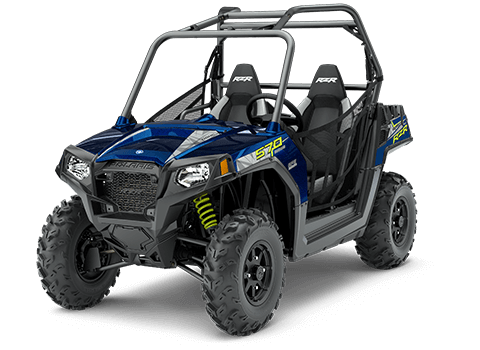 All the Features of the Base Model Plus:
Electronic Power Steering (EPS)
High Performance True On-Demand All Wheel Drive
VersaTrac Turf Mode
Maxxis Tires
Cast Aluminum Wheels
High/Low Beam Headlights
Automotive Style Paint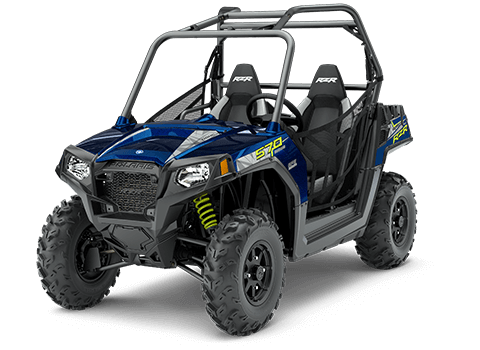 All the Features of the Base Model Plus:
Electronic Power Steering (EPS)
High Performance True On-Demand All Wheel Drive
VersaTrac Turf Mode
Maxxis Tires
Cast Aluminum Wheels
High/Low Beam Headlights
Automotive Style Paint
EPS Model: All the Features of the Base Model Plus Electronic Power Steering (EPS), High Performance True On-Demand All Wheel Drive, VersaTrac Turf Mode, Maxxis Tires, Cast Aluminum Wheels, High/Low Beam Headlights and Automotive Style Paint
Power
Engine Type
ProStar 570 4-Stroke DOHC Single Cylinder
Cylinders Displacement
567cc
Transmission/Final Drive
Automatic PVT P/R/N/L/H
Suspension
Front Suspension
Dual A-Arm with stabilizer bar, 9 in (22.9 cm) Travel
Rear Suspension
Dual A-Arm with Stabilizer Bar 9.5 in (24 cm) Travel
Agility
Drive System Type
True On-Demand AWD/2WD
Front Tires
25 x 8-12; Ancla
Rear Tires
25 x 10-12; Ancla