POLARIS FREE GRANT ASSISTANCE PROGRAM. Federal, state and private funding available for COVID-19 response.
The new center-cockpit design delivers high-visibility sight-lines to oncoming terrain and is perfectly positioned for performance-ergonomics.
The power and acceleration of the 110 HP ProStar H.O. engine within the lighter and optimally balanced RZR RS1 delivers instant response with the new high-performance clutch.
A compact 83" wheelbase combined with an optimally balanced and lightweight chassis results in the most agile RZR ever developed.
Industry-leading suspension for unmatched control, confidence, and comfort with an incredible 21" of travel and stage-tuned Walker Evans Needle Shocks.
The industry's best True On-Demand All-Wheel Drive (AWD) system for instant power delivery to the wheels that need it most. The result is firm control across any terrain and the tightest trails.
Traverse stumps and rocks with 13" of ground clearance. Get where you need to be no matter the terrain.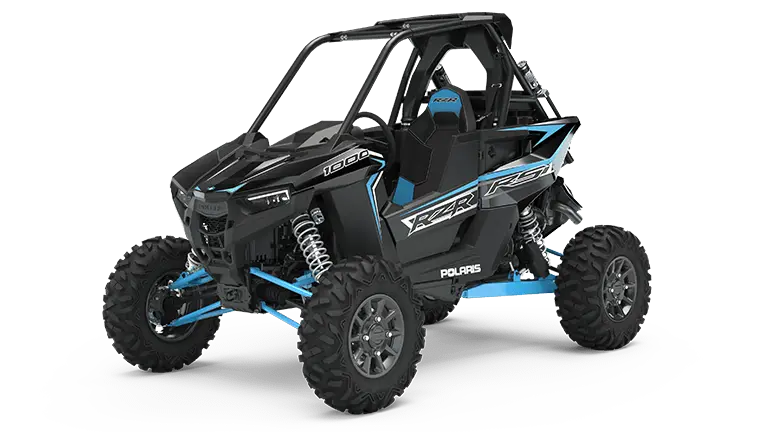 Person Capacity

1

Payload Capacity (lb)

300

Cargo Capacity (lb)

50
RZR RS1
Trim & Color options
Cruiser Black
Includes:
110 HP ProStar HO 999
13 Inch Ground Clearance
64 inch Width
Walker Evans Needle Shocks
21 Inch Travel
29 Inch Maxxis Big Horn 6-Ply Tires
Featuring strong and durable 5051 aluminum construction, this roof blocks overhead off-road obstacles as well as rain and sleet.
Polaris PRO HD 4,500 lb Winch
New Rapid Rope Recovery design with standard pulling mode and high-speed recovery. Mounts in designated, integrated location.
Lock & Ride Full Windshield - Hard Coat Poly
The premium optical grade impact resistant polycarbonate windshield provides maximum visibility and protection from the elements.
Pro Armor® 20" Dual Row LED Light Bar
The precision design combines both flood and spot beam optics to provide more depth and width.
Extreme Duty Bumper - Front
Finished in a durable, black-powder coat and includes all mounting hardware. Brackets are included for the seamless integration.
Extreme Duty Bumper - Rear
Finished in a durable, black powder-coat and includes all mounting hardware.
<span></span>

Horsepower

<span></span>

110

<span></span>

Engine Type

<span></span>

1000 H.O. 4-Stroke DOHC Twin Cylinder

<span></span>

Cargo Bed Capacity

<span></span>

50 lb (22.6 kg)

<span></span>

Payload Capacity

<span></span>

300 lb (136.1kg)

<span></span>

Towing Capacity

<span></span>

N/A

<span></span>

Fuel Capacity

<span></span>

9.5 gal (35.9 L)

<span></span>

Hitch Receiver

<span></span>

N/A
<span></span>

Front Suspension

<span></span>

Dual A-Arm with Stabilizer Bar and 21 in (53.4 cm) Usable Travel, 16" (40.6 cm) of Wheel Travel

<span></span>

Rear Suspension

<span></span>

Trailing Arm with Stabilizer Bar and 21 in (53.4 cm) Usable Travel, 18" (45.7 cm) of Wheel Travel

<span></span>

Ground Clearance

<span></span>

13 in (33 cm)

<span></span>

Person Capacity

<span></span>

1