( / )
Overview
Power
Suspension
Agility
Accessories
Overview
4 SEATS OF XTREME PERFORMANCE.
The RZR XP® 4 1000 EPS sets the benchmark for Xtreme Performance whether you need to complete the job on the trails, dunes, or desert. Featuring the ultimate combination of power, suspension, and agility, the RZR XP 4 1000 EPS makes your off-roading job easy with the ability to transport more people. Keep scrolling through this feature section to learn more.
Power Features
CONQUER YOUR WORKDAY WITH 110 HORSEPOWER
Off-road performance starts with power, and the RZR XP 4 1000 EPS delivers 110 horses of it at 8,000 RPM with the proven ProStar® 1000 H.O. engine. The heart of the RZR XP® delivers torque—up to 71 lb-ft of it—as soon as you step on the gas for mobility on the trails, dunes, desert, and more.
Suspension Features
TAKE ON THE HARSHEST TERRAIN
Glide over whoops, rocks, obstacles, and mother nature's most challenging terrain with our standard-setting suspension. Offering a huge 18-inches of rear wheel travel and 16-inches of front suspension travel thanks to our 3-link trailing arm rear suspension. And now featured are the Industry Exclusive Walker Evans shocks for near bottomless, next level performance for any job.
Agility Features
Keeping You In CONTROL
All of that Power and Suspension calls for agile handling, and the RZR XP 4 1000 EPS delivers. Our High Performance True On-Demand All-Wheel Drive System pulls you through the tightest corners and over the loosest terrain by maximizing power delivery to all 4 wheels. This increased traction, paired with standard Electronic Power Steering, provides unmatched handling.
COMPETITION
Competitive models square off the corners, also causing the rear to swing past the normal turning radius.
Accessories Features
Are you looking for Polaris Engineered accessories to make this the perfect off-road vehicle for your organization's needs? With over 1.6 million combinations of RZR accessories, we have the right package for you. Contact a Polaris sales representative for assistance in helping you build the perfect machine.
Xtreme Performance for 4 to transport more.
Select Color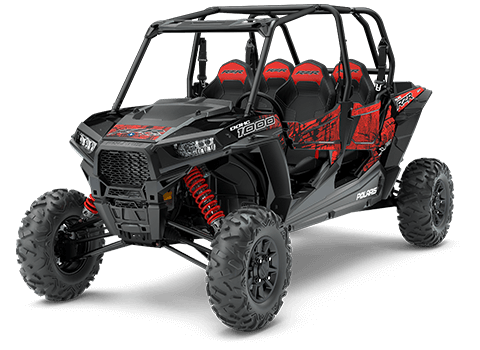 RZR XP® 4 1000 EPS - Black Pearl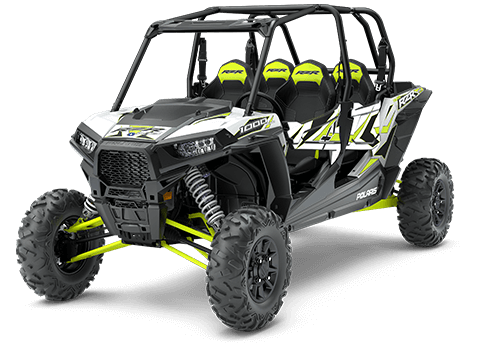 RZR XP® 4 1000 EPS - White Lightning
A world of connections with the revolutionary Ride Command
®
technology.
Select Color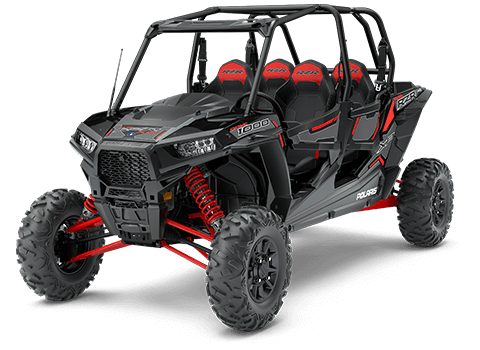 RZR XP® 4 1000 EPS Ride Command Edition - Black Pearl
Legendary RZR XP 4 1000 Features Plus:
Ride Command 7" Display
Group Ride (Via free Ride Command Mobile App)
Door Speakers
Front and rear wired cameras
Bluetooth and USB Smartphone Connectivity
Integrated GoPro® Control (GoPro not included)
AM/FM & Weather Radio
In-Vehicle Communications Capable (Via Display with option accessory headsets)
Ride Stat Tracking & Sharing (Via free Ride Command Mobile App)
Built-In GPS
And More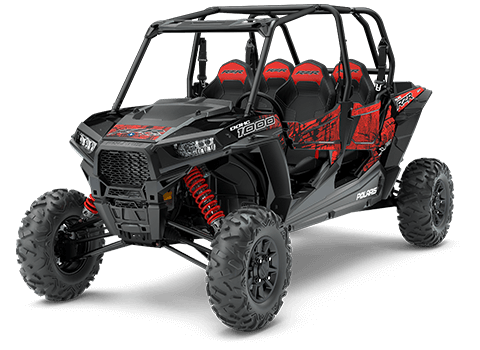 RZR XP® 4 1000 EPS - Black Pearl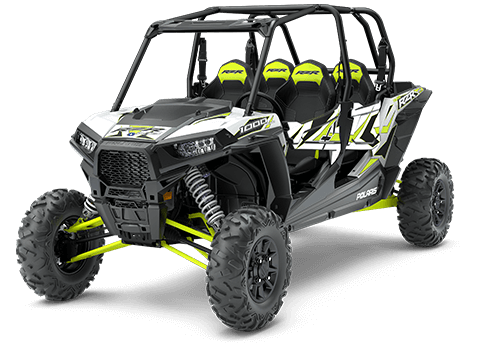 RZR XP® 4 1000 EPS - White Lightning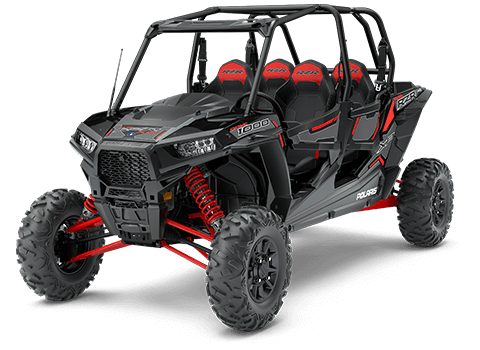 RZR XP® 4 1000 EPS Ride Command Edition - Black Pearl
Legendary RZR XP 4 1000 Features Plus:
Ride Command 7" Display
Group Ride (Via free Ride Command Mobile App)
Door Speakers
Front and rear wired cameras
Bluetooth and USB Smartphone Connectivity
Integrated GoPro® Control (GoPro not included)
AM/FM & Weather Radio
In-Vehicle Communications Capable (Via Display with option accessory headsets)
Ride Stat Tracking & Sharing (Via free Ride Command Mobile App)
Built-In GPS
And More
RZR XP® 4 1000 EPS
RZR XP® 4 1000 EPS
Power
Engine Type
ProStar 1000 H.O. 4-Stroke DOHC Twin Cylinder
Cylinders Displacement
999cc
Transmission/Final Drive
Automatic PVT P/R/N/L/H
Suspension
Front Shocks
2 in Walker Evans Needle with 16-Position Adjustable Clickers
Front Suspension
Dual A-Arm 16 in (40.6 cm) Travel
Rear Shocks
2.5 in Walker Evans Needle with 16-Position Adjustable Clickers
Rear Suspension
Trailing Arm with Stabilizer Bar and 18 in (45.7 cm) Travel
Agility
Drive System Type
High Performance True On-Demand AWD/2WD
Front Tires
29 x 9-14; Maxxis Bighorn
Rear Tires
29 x 11-14; Maxxis Bighorn