RANGER CREW XP 1000 Utility Beach & Shoreline Operations Package
This package includes a RANGER CREW XP 1000 Premium.
Vehicle colors are subject to change by model year.
---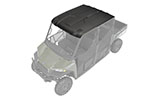 Poly Crew Sport Roof, Black
Lightweight rigid plastic construction for longer-lasting performance. No-leak performance for reliable protection from the elements.
---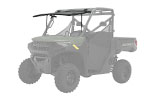 Tip-Out Windshield, Glass
The three position design of the tip-out windshield allows you to enjoy complete protection from the elements when closed or when open you can experience the breeze and open-cab feel of having no windshield at all.
---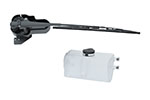 Windshield Wiper & Washer System
Maintain full visibility with the touch of a dash mounted toggle, wiping away rain or debris. The included washer kit powers through tough dirt for a safer ride in the toughest conditions.
---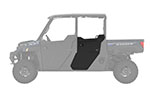 Reduce debris from the cab of your side-by-side while retaining an open-air experience with the front and rear Half Doors.
---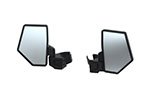 Side View Mirrors- ROPS Mounted
Mounted to the ROPS of a RANGER that is not equipped with doors. They are fully adjustable to accomodate riders of all sizes and can fold in to prevent being struck by trees and the like.
---
2 in. Receiver Hitch Tongue and Ball
This 2" Received Hitch is durable and reliable and it installs securely on a RANGER to accommodate trailering. With the hitch and ball your RANGER is ready to tow any standard side trailer.
---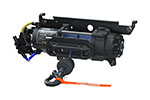 Polaris Pro HD 4,500 lb. Winch
Incredible pulling power with new Rapid Rope Recovery for faster re-spooling. Auto Stop Technology stops the winch automatically when the collar touches the fairlead saving time and preventing over-spooling.
---
Wide- Angle Rearview Mirror
The wide viewing angle and large 2.5" x 14" convex mirrored surface gives you a full spectrum view, and the rugged stamped steel construction is designed to withstand the rigors of off-road conditions.
---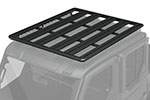 Rhino-Rack® Roof Rack, Large
Bring everything you need whereve the trail takes you. This Industry-first partnership delivers unmatched load carrying versatility for your side-by-side. This rack can be equipped with a wide variety of versatile attachments that protect and secure your load.
---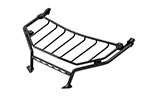 This steel-constructed rack with a powder-coated finish mounts across the hood for additional UTV storage, up to 100 lbs. This rack can also help protect you vehicle from brush and debris.
---
Pro Armor 40" Single-Row Combo LED Light Bar
The Pro Armor 40" Single-Row Combo LED Light Bar delivers extreme performance, with two rows of high-intensity LED fixtures and combination optics for an extremely versatile beam pattern.
---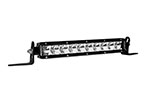 RIGID® SR-Series 10" Flood LED Light
The Rigid® SR-Series 10 in. Flood LED Light Bar combines patented hybrid flood and spot optics to throw 7,920 lumens as far as 794 ft. (242 meters).
---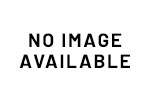 The turn signal and horn kit is a set of accessories designed to improve the safety and functionality of Polaris vehicles. It includes turn signals and a horn to alert other drivers and pedestrians of the rider's intentions.
---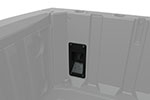 Maximize productivity with 12v Cargo Box Power Port to power your tools or accessories to get the job done.
---
This convenient Dash Winch Switch Kit adds an additional means of operating your Polaris HD winch.
---
Rhino-Rack® is a registered trademark of Rhino Rack Australia Pty Limited.
RIGID® is a registered trademark of RIGID Industries LED Lighting A Polaris Pulse Ready Accessory