Returning a Purchase
To return an online order, ship your return to the Polaris Returns Center.
Return Policy
Returns must be received in new and unused condition, free of any cosmetic damage. This includes, but is not limited to, scratches, scuffs, stretching, dents, dirt, pet hair or any sign the product has been mounted to a vehicle. Returns must be opened within 30 days of their original delivery date.
Shipping fees are non-refundable. Unless the product is defective, incorrect or has been damaged in transit, you will be responsible for the costs of returning the product. Damage caused to a product once it is in your possession does not make it defective.
Refunds will be issued back to the original method of payment.
Oil, fluids and Service Manuals cannot be returned. Final sale merchandise is not eligible for return.
Ship to Customer

Customers are responsible for all return shipping charges unless authorized by Polaris. Use a carrier that incorporates tracking and insurance services.
All shipments must be prepaid. We do not accept C.O.D. or any similar process. Packages shipped C.O.D. will be rejected upon delivery attempt and returned to the customer.
Follow the steps in the graphic below to return an order that was shipped to you.
Packaging Your Return

Returned products must be enclosed in their original packaging with the original packing slip and RMA number. This includes all boxes, plastic containers, plastic bags and equivalent protecting packaging, and all tags, information booklets, instructions, stickers, etc. Products deemed to be faulty or incomplete due to customer error will be returned to you, and a refund will not be granted.
Do not use the product's original packaging as a shipping container (for example, helmets, winches, etc.). To avoid damage and ensure you are refunded, it's recommended that you pack items in the original packaging and then place them inside of a larger, separate shipping container.
Original packaging that has been torn open or damaged is considered no longer in new condition and cannot be accepted.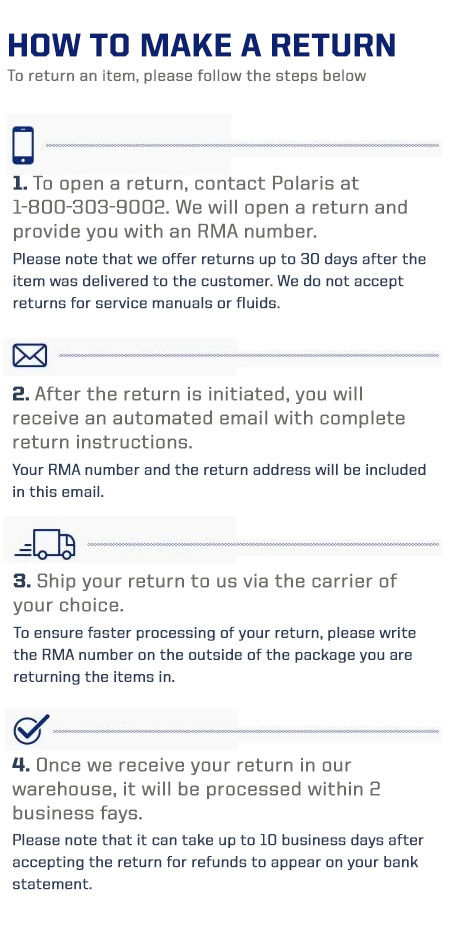 Return by Mail
To return your order by mail, follow these steps:
Log in to your Polaris account to view your orders.
Find the order where you'd like to make a return. You'll be taken to a summary of your order.
Select Return Items in the upper right corner of the Order Details page.
Select eligible items to return and tell us why you're returning them. Select Submit Return in the lower left corner to initiate your return. You will receive an email that includes your return number, return address and complete return instructions.
Place your items in the original packaging and then place them inside of a larger, outer shipping container. Be sure to pack it properly so your item won't get damaged. See the Packaging Your Return section of this article for details.
Please call Polaris Customer Service at 1-800-303-9002 in the U.S. to receive a pre-paid shipping label to return the items.
To ensure faster processing of your return, please write the return number on the outside of the package.
Address the package to:
Vermillion Returns Center
1997 Polaris Pkwy
Vermillion, SD 57069
All returns are processed at this location.
If you have any issues with your online order or would like to open a return, contact us at 1-800-303-9002 in the U.S. Have your order number and packaging slip ready, along with the item numbers you want to return. Our customer service team will open a return and provide you with a return number. You can call to open a return for items shipped to your home address and items shipped to a dealer. For further information, see the complete Online Return Policy.