Revolutionary New Capability from the Ground Up
The next generation MRZR Alpha Family of light tactical vehicles is more powerful and more capable than any other family of vehicles ever developed in this class. And it's engineered, produced and backed by the largest off-road vehicle manufacturer in the world.
Advanced Durability and Performance
New, More Durable Chassis


High Performance 8-Speed Transmission
High Clearance Front and Rear Dual A-Arm Suspension


Expanded Exportable Power
Up to 2,000 lb Payload Capacity


Maintained Compact Footprint & V-22 Transportablility
The MRZR Alpha maintains internal air transport requirements and adds helicopter sling load capability necessary for expeditionary forces. Internally transportable vehicles have restrictions to size and weight, but Polaris' investment and advances in chassis, driveline, suspension, and other technologies have allowed the company to provide a new level of capability in the MRZR Alpha within the footprint of a V-22 transportable vehicle.
The MRZR Alpha's versatility is further enhanced by expanded exportable power and increased payload. Since their introduction, MRZRs have been outfitted with counter unmanned aerial systems (C-UAS), direct-fire weapons, high-energy laser systems, intelligence, surveillance and reconnaissance (ISR) systems, tactical aviation ground refueling system, expeditionary command and control systems, autonomy packages, litters for casualty evacuation and communication equipment.
*Not all mission features depicted. All specifications are subject to change.
MRZR Alpha 2
Next-generation light tactical mobility with more durable chassis and driveline.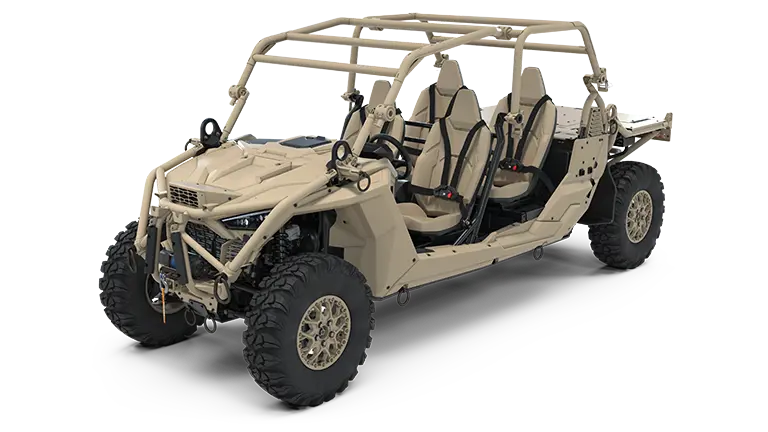 MRZR Alpha 4
Next-generation light tactical mobility with more durable chassis and driveline for additional occupants.
Person Capacity

2

Range (mi)

225 @GVW

Payload Capacity (lb)

1400
MRZR Alpha 2
Military Tan
Includes
Common Rail Turbo Diesel
12" Ground Clearance @GVW
32" Front and Rear Tires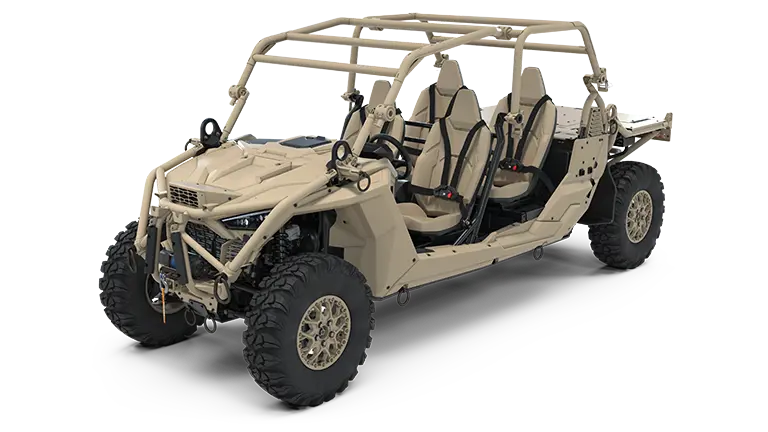 Person Capacity

4

Range (mi)

225 @GVW

Payload Capacity (lb)

2000
MRZR Alpha 4
Military Tan
Includes
Common Rail Turbo Diesel
12" Ground Clearance @GVW
32" Front and Rear Tires