Industry-Leading Features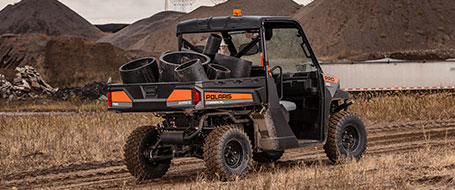 Durability
From upgraded driveline to components to the industry's first hard-pack tire, the PRO XD will still be running when others are in the shop.
Serviceability
The PRO XD is designed for less frequent service and it is easier to conduct daily maintenance checks. There are also more sensors to alert the user of possible issues before they require vehicle service. These improved features help to minimize down time.
Safety Features
Safety is imperative for government users and the PRO XD is engineered from the inside out for jobsite safety, including orange seatbelts and decals for high visibility, standard backup alarm and horn, and speed-limitations to ensure safe speeds.
<span></span>

Engine Type

<span></span>

3-Cylinder 4-Stroke Tier 4 Diesel

<span></span>

Drive System Type

<span></span>

2WD, AWD

<span></span>

Maintenance Interval

<span></span>

200 Hours (50 Hour Initial)

<span></span>

Top Speed

<span></span>

26 MPH
<span></span>

Cargo Bed Capacity

<span></span>

1,250 lbs (567 kg)

<span></span>

Cargo Bed Volume

<span></span>

12.6 cubic feet

<span></span>

Payload Capacity

<span></span>

1,900 lbs (861.8 kg), 2,075 lbs (941 kg)

<span></span>

Towing Capacity

<span></span>

2,500 lbs (1,134 kg)

<span></span>

Dry Weight

<span></span>

1,595 lbs (723.5 kg)

<span></span>

Ground Clearance

<span></span>

11" (28 cm)

<span></span>

Person Capacity

<span></span>

2-4