RANGER XP 1000 Insect & Plant Control Package
This package includes a RANGER XP 1000 Premium.
Vehicle colors are subject to change by model year.
---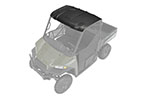 Poly 3-Seat Sport Roof with Lock & Ride Technology, Black
Lightweight rigid plastic construction for longer-lasting performance. Lock & Ride Technology for tool free installation, removal and cleaning.
---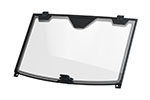 Full Glass Windshield, Clear
The durable automotive glass and perfectly sealed design ensures superior clarity and toughness while shielding you from the elements, making for a vastly more comfortable ride. The windshield is easy to remove when not needed.
---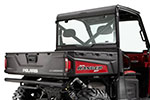 Pro Shield Glass Rear Panel with Lock & Ride Technology
The Polaris Lock & Ride Glass Rear Panel to not only seal out the elements such as dust swirl, rain and snow; but it also dramatically reduces unwanted cab noise.
---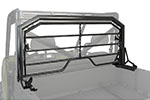 Lock & Ride Tip Down Headache Rack
There are simply no limits to the number of things you can bring, strap to, or attach to this adaptable Lock & Ride Tip Down Headache Rack. Leave it up to protect your cab or down to store more in your bed.
---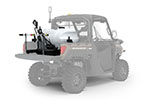 Tackle your biggest spraying jobs with this 60-Gallon Boomless Utility Sprayer. Mount this Utility Sprayer in your Polaris RANGER rear cargo box easily using Lock & Ride anchors and mounting hardware. The boom less design allows outstanding maneuverability as you ride precisely where you want to spray.
---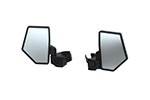 Side View Mirrors- ROPS Mounted
Mounted to the ROPS of a RANGER that is not equipped with doors. They are fully adjustable to accomodate riders of all sizes and can fold in to prevent being struck by trees and the like.
---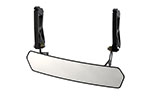 Wide- Angle Rearview Mirror
The wide viewing angle and large 2.5" x 14" convex mirrored surface gives you a full spectrum view, and the rugged stamped steel construction is designed to withstand the rigors of off-road conditions.
---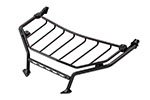 This steel-constructed rack with a powder-coated finish mounts across the hood for additional UTV storage, up to 100 lbs. This rack can also help protect you vehicle from brush and debris.
---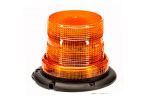 This strobe light allows you to be seen in high traffic area and in reduced visibility situations. The light has a strobe function for jobsite safety.
---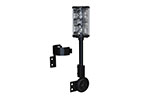 Add 50 feet of illumination 360° around your vehicle with this revolutionary Work Beacon LED Light. Mounted to the vehicle on the rear of the ROPs, easily hinge the light up during use and hinge it down when in transit.
---