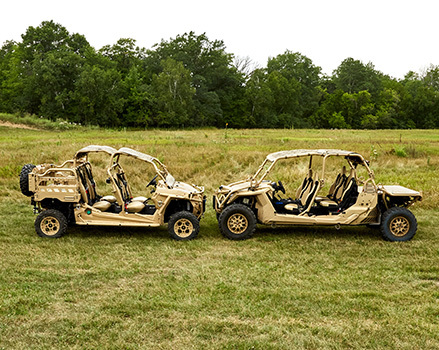 Celebrating 10 Years of the Polaris MRZR
Minneapolis, May 9, 2022 – Polaris Government and Defense, the largest ultralight tactical vehicle provider for the U.S. military and a division of global powersports leader Polaris Inc. (NYSE: PII), is celebrating ten years of its MRZR ultralight tactical vehicles. Over the last decade, Polaris Government and Defense has produced gas, diesel and hybrid variants for more than 50 military forces worldwide.
"We are honored to celebrate 10 years of MRZRs with our customers, who have been integral in the continued evolution of the MRZR platform," said Nick Francis, vice president, Polaris Government and Defense. "Our customers continue to expand the applications, missions and requirements for this class of vehicle – it drives us to deliver excellence every day and we're thankful for that partnership."
"Our expertise in off-road vehicle development, engineering and manufacturing provides value and capability to our military customers and allows us to produce vehicles with exceptional mobility, versatility and reliability," said Shane Novotny, director of engineering, Polaris Government and Defense. "We are committed to constant innovation and will always flex our company's broader off-road expertise to benefit our military customers, as we did with the recent development of the next-gen MRZR Alpha – the most capable MRZR to date."
Polaris all-terrain vehicles (ATVs) proliferated the military following the events of 9/11 to fulfill an urgently required capability between the foot soldier and larger tactical wheeled vehicles. Operator feedback on the commercial platforms quickly led Polaris to develop militarized platforms, including the MRZR, with a more mission-flexible modular design, collapsible roll cage for internal tactical air transport, greater payload and extended range. Polaris first introduced the MRZR in 2012 and U.S. Special Operations Command (USSOCOM) and the U.S. Marine Corps have been early adopters of the gas and turbo-diesel platforms. Polaris is also in production for both customers currently, providing its newest light tactical vehicle, the MRZR Alpha, for USSOCOM's Light Tactical All-Terrain Vehicle (LTATV) program and the Marine Corps' Ultra-Light Tactical Vehicle (ULTV) program. Polaris support of these programs includes vehicles, systems engineering, training, parts and integrated logistics support.
"We are flexing the tactical wheeled vehicle fleet to support successful execution of Force Design 2030 which also includes the ULTV, the Polaris MRZR Alpha. Polaris has produced a light mobility platform that provides us with greater mission capability than before," said Jennifer Moore, program manager for light tactical vehicles at Marine Corps Systems Command. "There's almost no limit to what the Marines are wanting to do with these vehicles as well as external programmatic capabilities, such as NOTM and L-MADIS, which are actively being integrated onto the ULTV platform."
Polaris MRZRs provide unmatched off-road capability making them ideal for custom equipment and applications. The hybrid and autonomous MRZR X was introduced in 2018 for the U.S. Army's Small Multipurpose Equipment Transport (SMET) program in partnership with ARA. In Britain, the U.K MoD's Project Theseus is developing autonomous air and ground solutions to deliver supplies in hostile environments. Polaris MRZR D4s are also being modified as an autonomous ground vehicle offering from Rheinmetall Canada.
Polaris is providing an all-new track system and full cab for the MRZR Alpha. Originally designed for enhanced Arctic and tundra mobility, the interchangeable elements of the cab enclosure and track kit can be mixed and matched for mission flexibility. The track conversion kit replaces each wheel with a separate track assembly, maintaining the same level of maneuverability while adding another level of off-road, all-terrain capability over snow, soft soil and mixed terrain. The cab helps protect occupants from weather conditions and environmental elements from rain, wind and snow to dust, dirt, branches or brush.
"While oversnow options like Polaris snowmobiles are incredibly effective, there are situations that require added passenger capacity and payload," said Francis. "The full cab and tracks expand the environments the MRZR Alpha can operate in and increase an already wide range of terrain for which it is well-suited."
Polaris light tactical vehicles – the MV850, MRZR and DAGOR – all have a tradition of military platforms that are intuitive to operate, easy to maintain, and easy to globally support within an existing worldwide infrastructure of parts distribution and dealer service networks. This flexible and on-demand support capability has proven to be valuable for expeditionary forces worldwide. Polaris employs dedicated military field service representatives (FSRs) to deliver on-site service and support, as well as operator and mechanic training courses to the U.S. and its allies. Polaris also provides world-class parts distribution with an established inventory management system that allows for minimized lead time for parts and reduces the logistics for supply chain planning. Worldwide logistics are strengthened by the global footprint of Polaris, which has over 3,600 dealers and products sold to 120 countries.
Polaris is a major original equipment manufacturer with 20 manufacturing facilities in eight countries. MRZRs, including the new MRZR Alpha, are produced in Roseau, Minn. at the birthplace of Polaris on a state-of-the-art, dedicated defense production line. It's here that the company combines new technologies with the legacy of workmanship and quality that's carried on in each employee that helps to build every Polaris vehicle.
Stop by and see Polaris Government and Defense light tactical vehicles at the following industry events:
Polaris booth #1041 at Modern Day Marine in Washington, D.C. May 10-12
Polaris booth #1325 at SOFIC in Tampa, Fla. May 16-19
Polaris booth #1835 at CANSEC in Ottawa, Canada June 1-2


Editor Note: For high-resolution images, please visit https://bit.ly/PolarisDefensePressKit or contact Katie Paulson, katie@kp-publicrelations.com.
About Polaris Government and Defense
Polaris Government and Defense vehicles are forged from more than 65 years of off-road innovation and leadership. The commercial prowess and innovative culture of Polaris are leveraged to deliver unique value to government entities and military forces worldwide. This dedicated division provides highly capable, simple to use, and affordable mobility platforms and vehicles that are readily available through easy procurement channels and supported through lifecycle training, service and maintenance from Polaris – the original equipment manufacturer.

Polaris Government and Defense | Mobility Made Easy | Polaris.com/Gov
About Polaris
As the global leader in Powersports, Polaris Inc. (NYSE: PII) pioneers product breakthroughs and enriching experiences and services that have invited people to discover the joy of being outdoors since our founding in 1954. With annual 2021 sales of $8.2 billion, Polaris' high-quality product line-up includes the Polaris RANGER, RZR and Polaris GENERAL side-by-side off-road vehicles; Sportsman all-terrain off-road vehicles; Indian Motorcycle® mid-size and heavyweight motorcycles; Slingshot moto-roadsters; snowmobiles; and deck, cruiser and pontoon boats, including industry-leading Bennington pontoons. Polaris enhances the riding experience with parts, garments, and accessories, along with a growing aftermarket portfolio, including Transamerican Auto Parts. Polaris' presence in adjacent markets includes military and commercial off-road vehicles, quadricycles, and electric vehicles. Proudly headquartered in Minnesota, Polaris serves more than 100 countries across the globe.www.polaris.com
Unless noted, trademarks are the property of Polaris Industries Inc.; © 2022 Polaris Industries Inc.