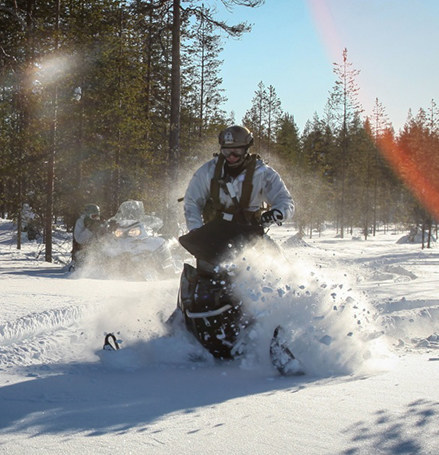 Let it Snow: Arctic Mobility from Polaris for the Military
Polaris is known for fueling an outdoor adventurer's passions – especially in the winter. But snowmobiles aren't just for recreational use. Arctic mobility is crucial for expeditionary and Special Operations Forces, as well as remote researchers, and these specialized teams around the world are turning to Polaris snowmobiles, Timbersled snow bikes and Ranger utility vehicles with snow kits to provide dependability, efficiency and performance when Mother Nature strikes.
Special Operations Forces (SOF) are known for their small unit tactics, which is why snowmobiles are such a great tool. Snowmobiles can extend the reach of the operators in environments that would usually take days to cover on foot. This can allow a military unit to infiltrate deep into an enemy area, conduct their tasked mission and exfiltrate without detection. Snowmobiles are an invaluable tool in deep snow and snow-covered mountainous terrain, which is normally a challenge for large-scale military movements.
With economic interests growing in the arctic, as well as both China and Russia making increasingly assertive moves in the region, in 2019 US Secretary of State Mike Pompeo declared during a speech in Greenland that it is "America's moment to stand up as an Arctic nation." Since that declaration, military activity has begun to step up in the area, highlighting the importance of and the increasing need for continuous arctic mobility and cold weather warfare training.
Operating in cold weather is not for the faint of heart. When conducting missions in cold environments, the military must be prepared to not only face opposing forces but also be able to operate effectively in the often-intimidating frigid temps and treacherous conditions.
Treacherous Training
To help fine tune cold-weather skills, in March of 2018, the U.S. Army 10th Special Forces Group (Airborne) soldiers participated in Northern Griffin, a multinational exercise hosted by Finnish SOF. The exercise provided Finland and partner nations the opportunity to train and evaluate capabilities in arctic conditions. Crucial to these trainings is how to use equipment properly and efficiently, and U.S. soldiers utilized Polaris snowmobiles to strengthen their capabilities.
In Winter 2019, Green Berets and Paratroopers assigned to the 10th Special Forces Group (Airborne) took part in the advanced riding technique instruction during an Advanced Snowmobile Course in Colorado. The course taught survival and combat tactics when operating snowmobiles in high north and alpine environments – building necessary skills and confidence for missions in adverse conditions. They also trained on Timbersled snow bikes in the deep snow, high-altitude, mountain environments, and showcased how snow bikes provide precise handling and added mobility for operators, granting access to terrain that may have been previously limited.
Dependability through the Snow
In a July presentation on America's Arctic strategy, Secretary of the Air Force Barbara Barrett noted that "historically, the Arctic, like space, was characterized as a predominantly peaceful domain. This is changing with expanded maritime access, newly discovered resources, and competing sovereign interests."
Amidst the increased military presence, government research efforts in the extreme north and south continue. The United States Antarctic Program and the National Science Foundation in Greenland both use Polaris snowmobiles in these unforgiving regions to monitor glaciers, transport personnel and carry equipment between buildings and bases.
The increasing global interest in these regions calls for an increase in preparedness for special forces, not only in continuously participating in arctic training exercises, but also in equipping forces with proper vehicles. Recently, the U.S. Military purchased modified Polaris Titan and Pro-RMK snowmobiles with modifications that include blackout drive, IR light, winch kit and tow hitches – further increasing their ability to navigate treacherous terrain and reach remote areas safely and efficiently.
Arctic mobility is crucial for militaries around the world with the need only getting stronger. Polaris is committed to and proud to aid in providing advanced off-road mobility to the military, regardless of conditions. Learn more about Polaris snowmobiles.
In addition to military applications, first responders have been utilizing Polaris off-road vehicles for patrolling and community response in adverse weather, as well as treacherous search and rescue missions. For more information about Polaris government and public safety capabilities, visit our Applications page.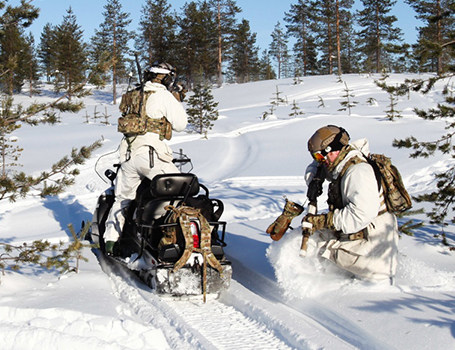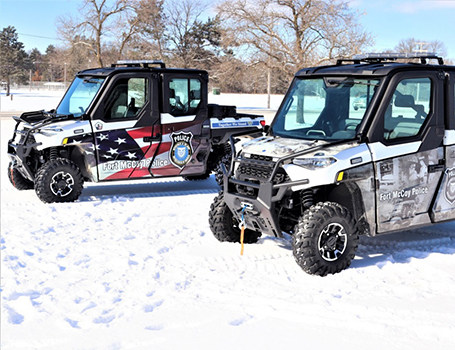 The appearance of U.S. Department of Defense (DoD) visual information does not imply or constitute DoD endorsement.