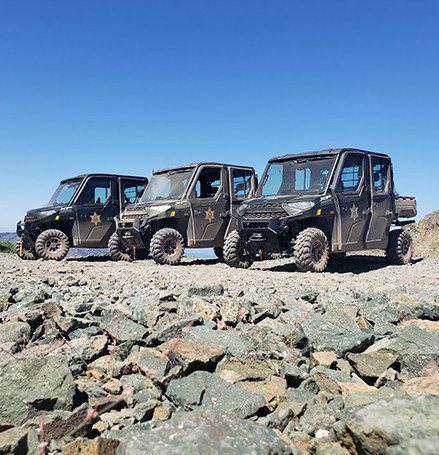 Smooth Procurement of Polaris RANGERs Drives Emergency Services Expansion for Glenn County Sheriff's Office
Three years ago, Sgt. Jon Owens stepped into the role of overseeing the search and rescue program at the Glenn County Sheriff's Office in California. In this new role, Sgt. Owens didn't just want to lead the volunteer program, he wanted to make it a department asset. Work he couldn't do alone.
So, Sgt. Owens brought in Amy Travis. Having recently stepped into a new role as deputy director of the office of emergency services (OES) at Glenn County Sheriff's Office and with more than a decade of experience in emergency management, she could help navigate team growth in a way that enhances the county's OES. Jillian Hughes, administrative services officer, rounded out the team with her expertise in grant management, budgeting and equipment procurement.
Together, the trio grew the volunteer response team from five to 30 individuals in three short years, while also securing a fleet of Polaris RANGERs that perfectly fit their emergency needs. Cementing the search and rescue program as a critical component of the Glenn County Sheriff's Office.
The Need for UTVs
"Volunteer groups such as our search and rescue team are vital to our emergency response operations, but for years were working with privately owned or outdated equipment," said Travis. "After jumping in to assist with levee monitoring and sand bagging on the Sacramento River to mitigate breaks after levee damage from brutal winter storms in both 2017 and 2019, it became clear new equipment for the team was critical."
The team leaned on Hughes' expertise to help procure a vehicle that could aid the search and rescue team and fit within their budget. In her work, Hughes discovered they were eligible to receive a large reserve of Title III Forest Funds that recently became available, which required the funds to be used on search and rescue operations in national forests.
"It worked out perfectly, as 99 percent of our search and rescue responses happen to be in our neighboring national forests," said Hughes. "So, we got to work defining what our dream vehicle would entail."
Dream Vehicle Realized
Polaris vehicles were always the top of the list, and once they started looking at the different options available, the team quickly realized that their dream UTV did in fact exist. The Polaris RANGER Crew XP Northstar edition had all the bells and whistles the team was looking for – a fully-enclosed cab complete with a standard HVAC system for keeping passengers out of harsh elements; off-road tires, narrow width and a powerful engine to patrol through tight spots, steep inclines and treacherous terrain; and LED lights and integrated Ride Command, which includes a GPS system, to enhance terrain mapping and conduct successful search and rescues anytime – day or night.
Hughes reached out to Mike Jackson, owner of MacGyver Solutions, a Polaris Government & Defense partner, to receive a quote for the UTVs and was pleasantly surprised to discover that the team could purchase not one, but three RANGERs within their allocated budget. With their attention to detail, knowledge in procurement processes, and experience in emergency management needs, Hughes and Travis worked together to ensure nothing slipped through the cracks during the selection and acquisition of their dream fleet.
"This was one of the easiest procurements I've done," said Hughes. "The best part was getting the equipment delivered significantly faster than we anticipated, especially being in the middle of a pandemic. This, in turn, enabled us to get out into the field earlier and put the UTVs to work."
Enhancing Search and Rescue
Since receiving the three RANGERs in July 2020, the team has been putting the vehicles to work regularly. Staff and volunteers are thrilled with how the new fleet has better allowed the team to not only serve the residents of Glenn County but also the surrounding regions during large-scale incidents and search and rescues. The RANGERs have especially upped the team's abilities to navigate safely and efficiently through the varying terrain of Glenn County, as well as over hazardous debris during emergency response to the 2020 wildfires and through snow-covered ground during winter storm rescues in early 2021.
The team couldn't be happier with how the search and rescue division is now recognized as a critical component to the office of emergency services while also being able to shine on its own. While the trio attributes that success to the commitment of the volunteer crew and the addition of the Polaris RANGERs, Sgt. Owens goes a step further to add that it couldn't have been done without the work of Jill Hughes and Amy Travis.
"None of this would have been possible without Jill and Amy," said Sgt. Owens. "They have been a driving force behind expanding and establishing our search and rescue team as a critical asset to our emergency services. Putting the right people and equipment in place."
Learn more about Polaris law enforcement vehicles here.