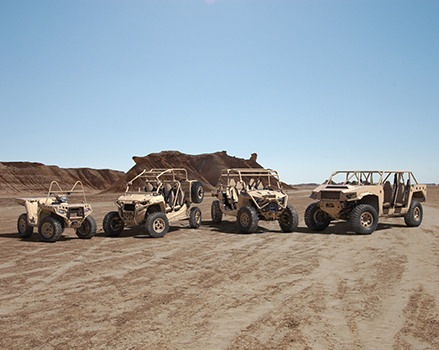 Light Tactical Military Mobility Takes Center Stage for Polaris at FIDAE
Polaris off-road vehicles extend capabilities for global armed forces
Polaris Government and Defense, the premier provider of ultralight tactical vehicles to global military forces, is attending FIDAE 2022 in Santiago, Chile April 5-10 with DM Aircraft Service. Polaris light tactical vehicles – the MV850, MRZR and DAGOR – provide unmatched off-road capability while also being intuitive to operate, simple to maintain, and easy to globally support within an existing worldwide infrastructure of parts distribution and dealer service networks.
First introduced in 2012, Polaris has continued to enhance the MRZR platform to meet the mission demands of the U.S. military, and over 50 allied forces worldwide. Multiple Latin American forces have Polaris MRZR or MV850 vehicles, including Chile, Mexico, Argentina, El Salvador and the Dominican Republic. Polaris is a major original equipment manufacturer (OEM) with 20 manufacturing facilities in six countries – including Mexico. Worldwide parts, service and training are strengthened by the global footprint of Polaris, which has over 3,600 dealers and products sold to 120 countries.
The MV850 is loaded with features which make it as comfortable as it is powerful. Operators experience less fatigue because the MV850 provides the smoothest, most responsive power steering available in an all-terrain vehicle, variable assist for easier steering and active descent control and engine braking system work together to monitor and control descent and deceleration. A powerful engine, two fuel tanks and 270 kg (600 lbs) of total rack capacity make it optimal for long distances.
The MRZR platform is flexible and modular to support uses ranging from rapid personnel deployment, to command and control, casualty evacuation to supply transport missions. MRZRs have redefined ultralight, off-road mobility for military vehicles and are mission critical for expeditionary forces in the U.S. and allied countries. The diesel vehicle comes in 2 and 4-seat configurations.
The newest vehicle, the MRZR Alpha ups the ante once again. A new chassis provides a larger and more durable foundation for the latest MRZR, which is powered by a high-performance, yet quiet, 118 hp turbo-diesel engine and off-road tuned automotive 8-speed transmission. The MRZR Alpha delivers superior off-road maneuverability and handling in the most demanding environments, including deep sand. In the cab, there is increased exportable power, more cab space and a greater configurability.
With seating for up to nine, DAGOR comprises an optimal balance of rapid air transportability, payload capacity and advanced mobility. DAGOR gives an advantage back to dismounted warfighters, allowing formations to move faster, carry more and significantly reduce combat fatigue. And its weight and size allow it to be internally transportable on a variety of in-service aircraft, including CH-47 and C-130.