Polaris Government & Defense is a Proud Employer of Military Veterans
>
With a legacy backed by more than 65 years of off-road innovation and leadership, Polaris Government & Defense is a trusted partner of government organizations, the U.S. military, and allies around the world. In addition to serving those who serve, Polaris is committed to working with organizations that proudly support the U.S. Military and actively recruiting and retaining veteran employees. Polaris Government & Defense values military service in its employees tremendously and participates in programs like Hiring Our Heroes and the Polaris Military Fellowship Program (PMFP).
In conjunction with the Department of Defense (DoD) SkillBridge, the PMFP is an opportunity for military service members to gain valuable civilian work experience through industry training, apprenticeships, or internships during their last 180 days of service. For retiring service members, PMFP provides an invaluable chance to work and learn in civilian career areas and at a corporate setting, while still receiving their military compensation and benefits.
"Approximately 200,000 members of the U.S. Armed Forces separate from active duty annually," said Corey Stigen, Senior Recruiter for Polaris, and U.S. Army Veteran. "Through PMFP, we're helping aid in the transition from active duty to civilian work by offering real-world training and work experience in an in-demand field. It also provides us access to the world's most highly trained and motivated workforce."
Polaris Government & Defense is humbled by the opportunity to serve military members and the families who have given so much and are incredibly honored to work alongside the veterans that have chosen Polaris to begin their next career.
Veteran Led
"The fact that Polaris is passionate about supporting our military, even when the going gets tough inspires me to come to work every day," said Nick Francis, Vice President of Polaris Government & Defense and U.S. Navy Veteran. "The Government and Defense Team based out of the U.S., UK, and Australia – and supported by Polaris subsidiaries, distributors, and dealers around the world – all share a common drive to provide the best possible vehicles, parts, and training to our military and government customers. In my eight years at Polaris, I have never seen that commitment waver."
Nick joined Polaris Government & Defense in 2014 as a Manager supporting International Business Development, bringing with him more than 20 years' experience in the Special Forces. In April 2022, he was named Vice President of Polaris Government & Defense.
During his time in the Special Forces, Nick gained invaluable skills that have aided in his civilian career success – including an emphasis on personal and unit accountability, teamwork, and trust, and an understanding of the importance of simplicity when solving challenging problems. He is thankful to be part of a company committed to contributing to the success of the U.S. military, as well as hiring veterans that bring a deep understanding of military use cases for the Polaris products and services.
Ryan R.
Program Manager, Supply Chain Risk Management

Ryan joined Polaris Government & Defense in January 2022 as an Armed Services Fellow through the DoD WorkEX program. He was hired on full time in July as Program Manager in Supply Chain Risk Management.
"I am proud to be an Airborne Ranger and am honored to be able to transition my military experience into my role in supply chain risk management," said Ryan. "During deployments in Afghanistan, Iraq, and Saudi Arabia, one had to always adapt to new environments and be able to develop a better system to improve each situation. With the constantly changing supply chain conditions, this is a skill that has also proven necessary within the work we are doing in risk management."
Ryan joined the U.S. Army in September 1999 as an R.O.T.C Cadet at the University of North Dakota. Following graduation in May 2002, he was commissioned into the Infantry as a Second Lieutenant and departed on a 20-plus year tour all over the world. During his time in the service, Ryan held positions from Rifle Platoon Leader to Security Cooperation Chief at a 3-Star Corps Headquarters and retired as a Lieutenant Colonel.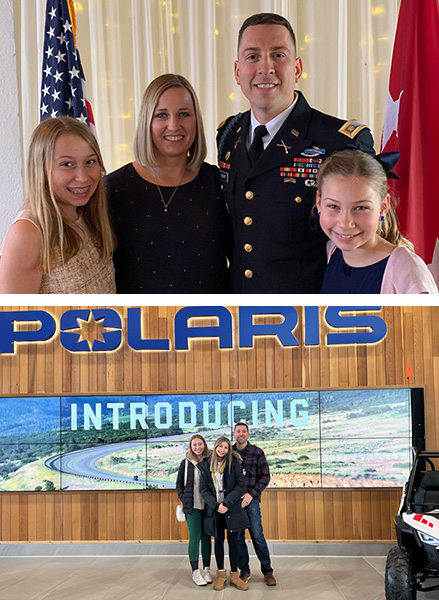 Jeff L.
Manager, FMS and Armed Forces Business Development
Jeff joined Polaris Government & Defense in 2019 as Manager of the Armed Forces Business Development and has since expanded that role to include Foreign Military Sales (FMS).
"Being a part of a team that supports the military and our public safety personnel means everything to me," said Jeff. "Everyone on the Government & Defense team has the same level of passion and understands the importance of providing U.S. and allied militaries with quality mobility products. I especially enjoy being able to build relationships and connect with our military customers on a personal level, while continuing to make a difference to those actively serving."
Jeff spent more than 29 years with the U.S. Army before retiring from active duty in 2015 as a Chief Warrant Officer 5. His time with the U.S. Army included six years spent as a Special Forces Green Beret Engineer and Combat Diver. He then attended Warrant Officer Flight training and spent 5,500 hours flying Kiowa Warrior, MH-6 Little Birds and MH 60 Blackhawk helicopters, 1,500 of which were combat hours. Jeff also served with two battalions of the 160th Special Operations Aviation Regiment (SOAR) and in 24 combat tours.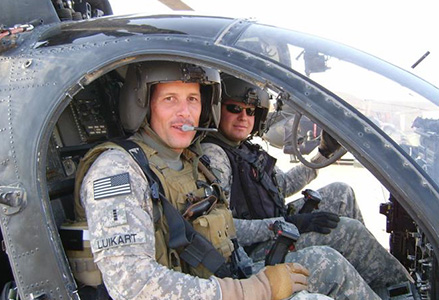 Mark S.

Manager, Program Defense

After being introduced to the Polaris team by a veteran partner, Mark joined Polaris Government & Defense in May 2020 as Manager of Program Defense – bringing with him nearly 30 years of experience in the U.S. Marine Corps.
"Having participated in all aspects of military transportation operations and training has given me insight into how the services employ and operate our vehicles, which I'm now able to transfer to my work at Polaris," said Mark. "I'm proud to be able to continue to serve our incredible men and women in the military, and to be a part of a team where every member – veterans and civilians alike – is valued for their unique perspectives and backgrounds."
During his time in the Marine Corps, Mark was assigned to each of the Marine Expeditionary Forces. He spent much of his career focused on ground transportation and logistics, and participated in a number of operations, including Desert Storm, OIF and humanitarian relief planning for the 2004 Tsunami in the Indian Ocean. The nine years preceding Mark's military retirement included an assignment in the Pentagon, where he worked in a wide range of transportation and logistics activities.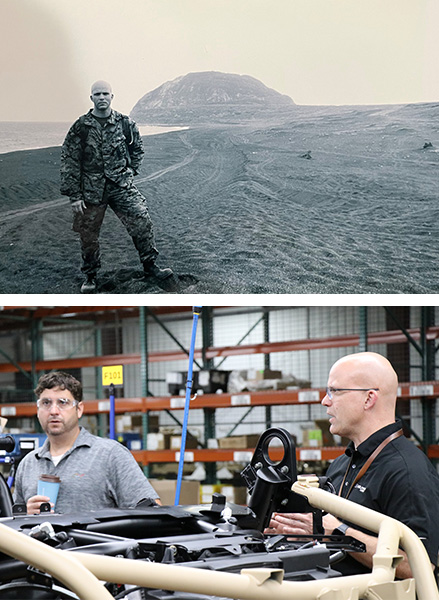 Chris B.



Program Leader for Autonomy and DAGOR
Chris joined Polaris Government & Defense as a Program Leader for Autonomy and DAGOR in May 2019. Prior to joining the team, he worked for the Government as a Civilian Engineer.
"It means a lot to work for a company that supports our military, especially since I was once that end user," said Chris. "I love being able to bring the knowledge and experience from my time in the military to help design vehicles that truly benefit the work of our warfighters, helping to ensure our militaries are equipped with the best equipment possible."

During his military service, Chris spent six years in the Marine Corps as a tank crewman. He was deployed to Iraq for the invasion in 2003, participated in the capture of An Nasiriya and aided in the rescue of the 507th and Jessica Lynch.
Stephen R.

Systems Engineer

Stephen joined Polaris Government & Defense in January 2018 as a systems engineer, bringing with him insider experience of how vehicles need to fit and stand up to the various scenarios and use cases of the military.
"Working in the nuclear field taught me that I can learn anything. Throughout our work, we needed to be very detailed and follow strict procedures. A skillset which helps me in problem solving and troubleshooting in my work today," said Stephen. "I love being able to continue to support our country through my work at Polaris Government & Defense, even though I'm no longer active duty. It feels like helping family."
Stephen served in the U.S. Navy as a Nuclear Electrician's Mate from 1998-2006, working on the USS Theodore Roosevelt from 2000-2003. During his time in the service, Stephen also supported operations in the Gulf during Operating Enduring Freedom.
Mark J.
Field Service Rep
Mark joined Polaris Government & Defense in January 2018 as a Field Service Rep (FSR). He immediately went to work in Canada to aid in the first Ultra-Light Combat Vehicles delivery for the Canadian Special Operations Forces Command (CANSOFCOM), and his work hasn't slowed down since.
"My military career has been instrumental in my role as a Defense FSR in understanding the customer needs both from a user point of view and an engineering point of view. The veterans on the team speak the same language as those currently serving which greatly helps us work together and ensures we deliver exactly what customers want and need in terms of training and engineering support," said Mark. "It is a privilege to be able to continue to support the men and women of the Armed Forces now as a civilian myself, and I'm proud to be a part of the amazing team at Polaris Government & Defense."
Mark served 25 years with the Royal Electrical and Mechanical Engineers of The British Army, completing numerous operational deployments worldwide. For more than half of his career, Mark served with the British Airborne forces and The United Kingdom Special Forces (UKSF) before retiring in December 2018 as a Warrant Officer class 1.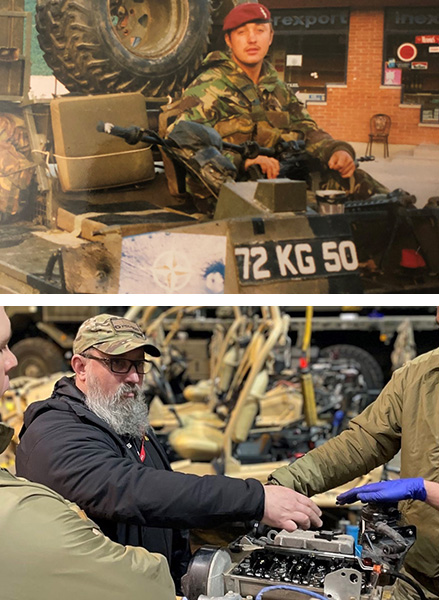 Dunc B.
Tactical Mobility Specialist, Polaris Government & Defense U.K.
Dunc joined the U.K. team in January 2021 and is a tactical mobility specialist, bringing his more than two decades of military service within the U.K. Special Forces to the team and our international special forces community of customers.
"Transitioning out of the military into Polaris Defense has been easy for me. I attribute much of that to the very close relationships that Polaris Defense has with the global military community and the patriotic attitude of the Defense staff," said Dunc. "The veterans on our team speak the same language as the user community and that eliminates barriers in the feedback loop. It also adds value to research and development, trials and evaluation phases internally, and delivers a deeper understanding of the end user requirements as we develop new mobility platforms."
Dunc's service in the U.K. military includes four years in the 2nd Battalion, The Parachute Regiment, and 22 years with U.K. Special Forces with the 22nd Special Air Service (SAS). Within his UKSF service, he spent 10 years in a Mobility Troop focused on long-range desert warfare. Here he became intimately aware of a broad spectrum of tactical vehicles – from motorcycles and ATVs to trucks and everything in-between. He also spent five years in vehicle procurement where he had exposure to the Polaris suite of vehicles, including their acquisition for the U.K. military.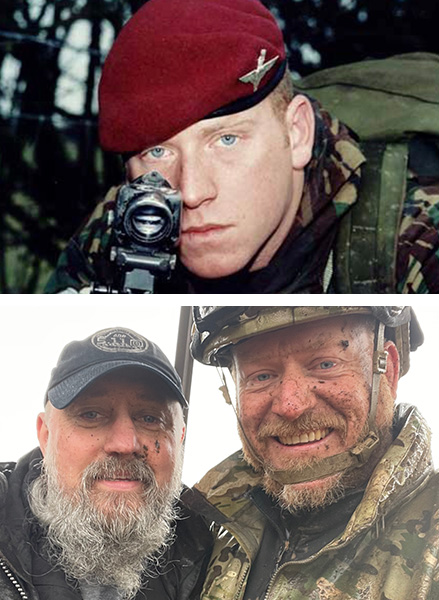 Polaris Government & Defense is honored to work with and learn from the numerous veterans that bring unique perspectives and experience to their teams, and inspiration to the entire company. To learn more about working at Polaris and for current openings, visit: https://www.polaris.com/en-us/careers/.
About Polaris Government and Defense
Polaris Government and Defense vehicles are forged from more than 65 years of off-road innovation and leadership. The commercial prowess and innovative culture of Polaris are leveraged to deliver unique value to government entities and military forces worldwide. This dedicated division provides highly capable, simple to use, and affordable mobility platforms and vehicles that are readily available through easy procurement channels and supported through lifecycle training, service and maintenance from Polaris – the original equipment manufacturer.

Polaris Government and Defense | Mobility Made Easy | Polaris.com/Gov
About Polaris
As the global leader in Powersports, Polaris Inc. (NYSE: PII) pioneers product breakthroughs and enriching experiences and services that have invited people to discover the joy of being outdoors since our founding in 1954. With annual 2021 sales of $8.2 billion, Polaris' high-quality product line-up includes the Polaris RANGER, RZR and Polaris GENERAL side-by-side off-road vehicles; Sportsman all-terrain off-road vehicles; Indian Motorcycle® mid-size and heavyweight motorcycles; Slingshot moto-roadsters; snowmobiles; and deck, cruiser and pontoon boats, including industry-leading Bennington pontoons. Polaris enhances the riding experience with parts, garments, and accessories, along with a growing aftermarket portfolio, including Transamerican Auto Parts. Polaris' presence in adjacent markets includes military and commercial off-road vehicles, quadricycles, and electric vehicles. Proudly headquartered in Minnesota, Polaris serves more than 100 countries across the globe.www.polaris.com