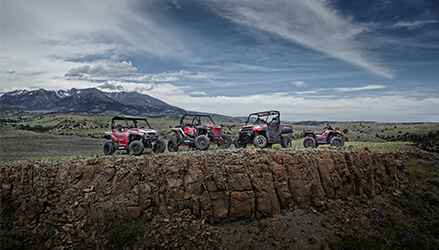 Polaris Announces New Vehicles and RZR DYNAMIX™ Active Suspension – The Future of Ride and handling
Polaris® Government & Defense
Minneapolis, July 25, 2017 – Polaris®, the worldwide leader in off-road vehicles, announces several new 2018 models, and an industry first and exclusive suspension technology that will revolutionize the off-road riding experience. Polaris Off-Road Vehicles continue to lead the industry in innovation, bringing intuitive, rider-centric solutions to customers. These commercial vehicles not only deliver industry leading mobility to government customers all over the world through Polaris Government & Defense, but are easy to buy through multiple contracting channels. All vehicles are offered with complete life cycle support of the vehicle, from delivery through post-sales service and warranty, service parts, additional accessories and onsite training, including mechanic and operator courses.
RANGER® - Hardest Working, Smoothest Riding Utility Side-by-Side
Polaris RANGER® is the industry's number one-selling utility side-by-side (SxS), and more than 100 customer-inspired innovations make the new RANGER XP® 1000 the hardest working, smoothest riding RANGER ever built.
More Rugged – At the heart of the vehicle is a powerful ProStar® 1000 engine, tuned to produce a class-leading 82 horsepower. A new Polaris-designed, large-ratio clutch provides unmatched, low-speed drivability and features the strongest belt ever offered on RANGER. Additionally, improved driveline geometry produces less friction for increased efficiency and a quieter ride. The RANGER XP 1000 turns power into productivity with 25-percent more towing capacity for an industry-leading 2,500 lbs. (1,134 kgs).
At the foundation of the RANGER XP 1000 is a more-rigid, one-piece chassis, which increases stiffness and reduces flex for a stronger, more durable machine and improved ride. The industry-leading 11 in. (27.9 cm.) of suspension travel represents a 10-percent increase, further enhancing the legendary smooth ride that RANGER is known for. New 27-in (68.6 cm.) tires with cast aluminum rims provide a taller stance and an industry-leading 13 in. (33 cm.) of ground clearance. With 8.3 percent more ground clearance, the RANGER XP 1000 can conquer the toughest terrain, from the jobsite to the trail.
The completely new front end, larger headlights and a new distinct grill are positioned behind a massive front bumper, designed for added protection in the toughest environments. The new bumper includes an integrated Polaris Glacier® plow mount, vehicle tie-down points and mounting points for a Polaris winch and lighting accessories. The RANGER XP 1000 also features a new, full-body skid plate providing even-more rugged protection for increased durability. An all-new dumping cargo box carries 11.5 percent more volume and has welded steel corners for increased stiffness. Features such as exclusive Lock & Ride® rails, eight stake pockets, molded in-box divider slots, and large, reinforced D-rings make it the most versatile cargo box in the industry.
For precision handling, the vehicle has a reduced steering ratio and provides a tighter turning radius, and the new, front sway bar offers a more responsive ride and improved maneuverability. Low-speed clutch engagement provides a smooth ride and more control when loading, unloading, hooking up a trailer or navigating tight terrain. All 2018 RANGER XP 1000 vehicles feature the Polaris engine braking system (EBS) ensureing smooth, controlled descents on steep inclines with or without a load. The vehicle also has a Three-Mode Throttle Control with Performance, Standard and Work modes for unparalleled control of the vehicle's industry-leading power. All this combines for a better driving experience, no matter the application.
More Refined – The new RANGER XP 1000 is more refined, delivering the next level of fit, finish and attention to detail in a utility SxS. An all-new exterior design is inspired by full-size pickup trucks and captures the essence of RANGER. The all-new interior of the RANGER XP 1000 has been completely redesigned around the operator, providing more comfort and convenience.
Getting in and out of the vehicle is easier with 5 in. (12.7 cm.) more clearance. Once inside, the operator will notice more legroom and ultra-comfortable seats with 1 in. (2.5 cm.) more bottom cushioning. An all-new, user-friendly dash layout features a new dual-sweep digital/analog gauge and four more accessory switch locations that are pre-wired. As a result, Polaris Engineered™ accessory installation is easier.
With new class-leading storage, the RANGER XP 1000 has room for anything needed for a day of riding or working. A massive, 3.4 gallon (12.7 liter) in-dash tray, and large, truck-inspired double glove boxes keep even the largest items secure. The new flip-up passenger seat offers maximum interior configurability and can hold cargo such as a 5 gallon (19 liter) bucket or a cooler. The in-cab attention to detail can even be seen with the six cup holders, including handle cutouts for mugs.
RANGER has hundreds of available Polaris Engineered accessories for any work or recreation application, including cab systems, storage solutions, wheels and tires, and more. The RANGER XP 1000 takes accessory integration to new heights with the new Polaris® Pulse™ electrical system and RANGER Pro Shield cab system. Found under the hood, the Polaris Pulse electrical system allows for plug-and-play installation of Polaris Engineered powered accessories. Additionally, a Polaris Pulse bus bar can be added to the new Polaris Engineered Lock & Ride roofs for easy installation of additional lighting, audio and other powered accessories necessary for law enforcement and essential for safety in other applications.
The all-new RANGER Pro Shield cab system provides the industry's most premium in-cab experience with at least three times less dust intrusion than competitive OEM offerings. The cab system is fully customizable and features re-designed doors with crank or power windows, as well as half-doors. It also offers integrated accessory options such as an eight-vent heater and defrost system; windshield washer and wiper system; multi-function, removable cab light; heated seats; rearview mirrors; and more to provide the most-premium cab experience RANGER has ever offered.
RZR® - Agile Performance Side-by-Side
Polaris RZR®, the number one selling recreational SxS, known for delivering the ultimate combination of power, suspension and agility, introduces an industry-first innovation – RZR DYNAMIX™ Active Suspension. Available exclusively on the RZR XP® Turbo DYNAMIX Edition, DYNAMIX is the world's first and only intelligent off-road suspension system designed to eliminate compromise and deliver the best ride at every moment. With more than 200 inputs received every second, DYNAMIX is the only suspension that continuously tunes on the fly. Seamlessly integrated into the RIDE COMMAND® system, DYNAMIX also comes standard with a front camera and simple-touch controls. RZR DYNAMIX – the future of ride and handling is here.
GENERAL® - Agile Utility Side-by-Side
Polaris GENERAL® is the best-selling crossover utility vehicle (UTV) on the market. New for Model Year 2018, Polaris has given the GENERAL more durability, more performance and more models to choose from including a military-inspired, limited-edition vehicle, and new, adjustable FOX® Podium X 2.0 QS3 Shocks on the Polaris GENERAL 4 1000 EPS.
ACE® – Single Seat Utility
Polaris ACE® continues to bring the revolutionary, single-seat experience to riders by offering several vehicles, based on customer feedback, that cater to everyone from first-time users to adrenaline junkies. New for 2018, the ACE 570 EPS has several upgrades including a Dual A-arm suspension, quarter doors, integrated storage, and front and rear mud guards. The lineup includes the ACE 500, ACE 570 EPS and ACE 900 XC.
About Polaris Government & Defense
Polaris Government & Defense vehicles are forged from more than 60 years of off-road innovation and leadership. The commercial prowess and innovative culture of Polaris Industries are leveraged to deliver unique value to government entities and military forces worldwide. This dedicated division provides highly capable, simple to use, and affordable mobility platforms and vehicles that are readily available through easy procurement channels and supported through lifecycle training, service and maintenance from Polaris – the original equipment manufacturer.
Polaris Government & Defense | Mobility Made Easy | Polaris.com/gov
Editor Note: For high-resolution images, video and data sheets, please visit our online media kit at http://bit.ly/PDMediaKit or contact Katie Paulson, kpaulsonpr@gmail.com.
About Polaris
Polaris Industries Inc. (NYSE: PII) is a global powersports leader that has been fueling the passion of riders, workers and outdoor enthusiasts for more than 60 years. With annual 2016 sales of $4.5 billion, Polaris' innovative, high-quality product line-up includes the RANGER®, RZR® and Polaris GENERAL™ side-by-side off-road vehicles; the Sportsman® and Polaris ACE® all-terrain off-road vehicles; Indian Motorcycle® midsize and heavyweight motorcycles; Slingshot® moto-roadsters; and Polaris RMK®, INDY®, Switchback® and RUSH® snowmobiles. Polaris enhances the riding experience with parts, garments and accessories, along with a growing aftermarket portfolio, including Transamerican Auto Parts. Polaris' presence in adjacent markets globally include military and commercial off-road vehicles, quadricycles, and electric vehicles. Proudly headquartered in Minnesota, Polaris serves more than 100 countries across the globe. Visit www.polaris.com for more information.