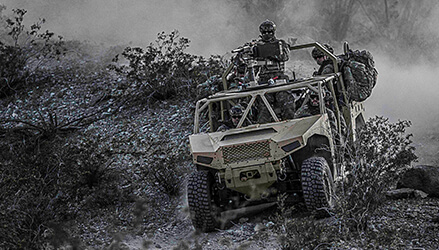 Polaris Defense Submits Response for U.S. Army's ULCV RFI
Polaris® Government & Defense
MINNEAPOLIS (May 12, 2015) — Polaris Defense, a division of Polaris Industries Inc. (NYSE: PII) submitted a response for the U.S. Army's request for information regarding the ULCV program. The market questionnaire had a deadline of today and is designed to help program management better understand the capabilities of manufacturers and availability of commercial products, like DAGOR™.
"Our tested and proven DAGOR vehicle is in the hands of U.S. and allied Special Forces and the feedback has been extremely positive," said Rich Haddad, general manager of Polaris Defense. "It was designed for requirements very similar to what we are seeing materialize for the ULCV, and as a result DAGOR already represents the optimum balance of payload, off-road mobility and tactical air transportability. If we were designing a vehicle specifically for ULCV, the result would be DAGOR with a short list of accessories, which we detailed in our RFI response to the U.S. Army."
DAGOR made its public debut at AUSA last October with contracts from U.S. and allied Special Forces. Since its expedited deliveries started in November, U.S. and international government testing has been rigorous – and positive.
"We've heard from our Special Forces customers that DAGOR gets them places they have not gone in a vehicle before," said Haddad. "It makes us very proud that the vehicle we worked hard to produce truly fills a mobility gap, and that DAGOR was – and still is – a needed capability."
DAGOR was designed for a mobility gap for light infantry and special operations forces. The gap could be filled with a vehicle that is easily transported by tactical air, carries enough payload to be mission effective and carries its full payload in extreme off-road terrain. DAGOR meets those requirements in a robust and flexible off-road vehicle platform that can be configured for up to 9 Warfighters. By traversing more concealed and unpredictable routes over terrain usually traveled on foot, DAGOR allows the Warfighters to move quickly to the objective with mission-critical equipment. DAGOR can also be supported with a COTS supply chain, anywhere in the world, making it easy to use and easy to maintain.
The vehicle curb weight is less than 4,500lbs to maximize tactical aircraft operational range and has a payload capacity of 3,250lbs. The width of DAGOR facilitates rapid loading into the CH-47 Chinook platform without modification and the weight allows it to be sling loaded under the UH-60 Black Hawk. The vehicle has completed certification testing for CH-47 Chinook Internal Air Transport (IAT), air drop and UH-60 Black Hawk Sling Load.
"DAGOR looks to be a great natural fit for the ULCV requirements as they are provided today," said Haddad. "Bottom line, DAGOR allows the Warfighter to go faster with more people and payload while enhancing their mobility and combat effectiveness over difficult terrain."
Polaris Defense brings game-changing resources to the military in the area of off-road mobility as part of a larger, commercial company. Polaris provides a wealth of engineering, production and sustainability resources that come with being a recognized leader in the off-road vehicle industry. Polaris maintains a robust global network of dealers, distributors, and subsidiaries, providing dedicated full life-cycle support for these vehicles throughout the world. And with a proven and well-established Defense team, the company works closely with military customers to gain a thorough understanding of their off-road mobility needs.
EDITOR'S NOTE: For high-resolution photos, please visit http://bit.ly/PDMediaKit.
About Polaris
Polaris is a recognized leader in the powersports industry with annual 2014 sales of $4.5 billion. Polaris designs, engineers, manufactures and markets innovative, high quality off-road consumer and military vehicles, including all-terrain vehicles (ATVs) and the Polaris RANGER® and RZR® side-by-side vehicles, snowmobiles, motorcycles and on-road electric/hybrid powered vehicles.
Polaris is among the global sales leaders for both snowmobiles and off-road vehicles and has established a presence in the heavyweight cruiser and touring motorcycle market with the Victory® and Indian Motorcycle® and Slingshot® brands. Additionally, Polaris continues to invest in the global Work and Transportation vehicle industry with Global Electric Motorcars (GEM), Goupil Industrie SA, Aixam Mega S.A.S., and internally developed vehicles. Polaris enhances the riding experience with a complete line of Polaris Engineered Parts, Accessories and Apparel, Klim branded apparel and ORV accessories under the Kolpin®, Cycle Country® and Pro Armor® brands.
Polaris Industries Inc. trades on the New York Stock Exchange under the symbol "PII", and the Company is included in the S&P Mid-Cap 400 stock price index.
Information about the complete line of Polaris products, apparel and vehicle accessories are available from authorized Polaris dealers or anytime at www.polaris.com.