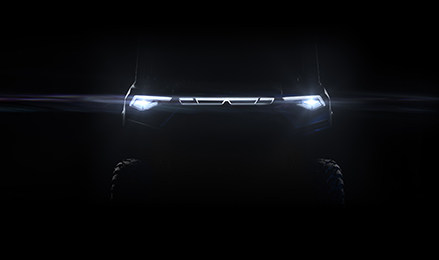 Polaris Releasing an All-New Full-Size Electric RANGER
The new electric powertrain meets a growing demand for zero emission utility vehicles
Minneapolis, June 2, 2021 – Polaris Inc. (NYSE: PII) will debut an all-new electric RANGER utility side-by-side in December 2021, elevating the RANGER platform to a whole new level of capability, durability and performance. This full-size RANGER is the first electric vehicle Polaris developed through its powersports industry-exclusive partnership with Zero Motorcycles®, which the two companies announced last September.
"Polaris partnered with Zero Motorcycles to take the greatness of their electric powertrain and combine it with the greatness of our RANGER off-road capability," said Amber Malone, global electrical engineering director, Polaris. "Going electric also brings added off-road durability. By reducing the number of moving parts we're giving the all-new electric RANGER the strongest utility drivetrain we've ever made."
To meet the growing demand for zero emission vehicles (ZEV), clean and alternative fuel vehicles (AFV), Polaris Government and Defense will offer the all-new electric RANGER to government organizations including federal, state and local agencies, and non-profits.
"This all-new full-size electric RANGER is a significant offering for our government customers that need to incorporate more electric vehicles into their fleet without sacrificing utility, performance or durability," said John Pepas, manager of Government Sales, Polaris Government and Defense. "Not to mention its ability to also decrease total cost of ownership, reduce CO2 emissions and operate quietly. There are so many initiatives driving electrification and its benefits, as well as grants and other funding streams available for reducing an organizations carbon footprint, and this all-new electric RANGER will be a game-changer in the utility vehicle space."
This electric RANGER will raise the bar when it comes to how much work can get done with a utility vehicle. Polaris has an extensive catalog of RANGER accessories for ground maintenance, delivery, technician, maintenance, shuttle and repair applications. And Polaris Government and Defense has developed specialized application packages for law enforcement, fire and rescue which are professionally installed in a turn-key vehicle package with a full warranty from Polaris Government and Defense, a division of Polaris.
"We build the hardest working, smoothest riding utility vehicles on the planet and we're not about to compromise on any of that. The most exciting thing about building this new electric RANGER is that the electric powertrain has unlocked capabilities for us to create the best RANGER we've ever built," said Chris Judson, RANGER vice president, Polaris. "The all-new electric RANGER provides significantly more horsepower and dramatically more usable torque than ever before.
Electric motors are excellent for work environments because they have a very linear torque curve to generate peak torque very quickly and maintain it through a wide range of operating speeds, which is needed for big jobs like towing heavy loads.
Hard working utility is about more than raw power – it also requires precise control of the power to get work done fast and efficiently. The all-new electric RANGER will deliver next level hauling and towing because of the way it combines massive power with precise control," said Brent Erspamer, Special Vehicles Teams engineering director, Polaris. "Anything from traversing rocks or boulders, to backing up to a trailer to hook up a hitch – the precise control is going to be a huge benefit. From the instantaneous torque, to the precise control and the slow speed drivability it's really going to blow people away."
The all-new electric RANGER also uses regenerative braking – a feature that helps charge the battery when the foot is off the throttle – as a variable engine braking system. So if the vehicle is going down a hill hauling a load, the brake system will actually help slow the vehicle at the same time it's charging the battery. Precise control over how the vehicle accelerates, how it decelerates, and how much torque is being produced at any given speed combines to create a powerful formula for optimizing performance.
Design and development efforts for the all-new electric RANGER are underway in Wyoming, Minn., with manufacturing for North American vehicles to take place at Polaris' facility in Huntsville, Ala. To learn more about the all-new electric RANGER or other RANGER models, visit Polaris.com/NewElectricRANGER.
Editor Note: For high-resolution images and video, please contact Katie Paulson, katie@kp-publicrelations.com.
Forward Looking Statement
This press release contains forward-looking statements within the meaning of the Private Securities Litigation Reform Act of 1995 that are based on our current expectations and assumptions. These forward-looking statements, including the statements related to delivery timing, product performance expectations, and strategy expectations, are subject to certain risks and uncertainties that could cause actual results to differ materially from the potential results discussed in the forward-looking statements. In particular, our predictions about delivery timing, product performance, and strategy could be affected by a variety of factors, including: the severity and duration of the COVID-19 pandemic and the resulting impact on the Company's business, supply chain, and the global economy; the Company's ability to successfully source necessary parts and materials and the ability of the Company to manufacture and deliver products to dealers on time and to meet demand; delays in product development, testing, and validation; economic conditions that impact consumer spending; disruptions in manufacturing facilities; environmental and product safety regulatory activity affecting utility vehicles; effects of weather; commodity costs; and freight and tariff costs. The Company does not undertake any duty to any person to provide updates to its forward-looking statements. We advise you to also review our risk factors included in our Form 10-K and to consult any further disclosures made on related subjects in future quarterly reports on Form 10-Q and current reports on Form 8-K that are filed with or furnished to the Securities and Exchange Commission.
ZERO MOTORCYCLES® is a registered trademark of ZERO MOTORCYCLES, INC. Unless noted, trademarks are the property of Polaris Industries Inc.