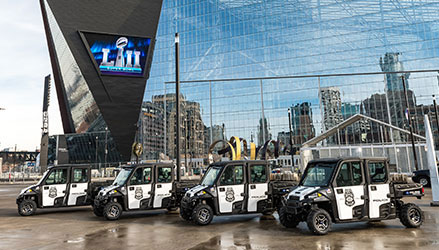 Super Bowl® LIVE Law Enforcement Team to Use Polaris® Police RANGERs
01/23/2018
MINNEAPOLIS, Minn. (Jan 23, 2018) - Polaris Government and Defense, a division of Polaris Industries Inc. (NYSE: PII), is providing 10 RANGER XP® 1000 EPS Northstar HVAC Edition side-by-side vehicles to the Minneapolis Police Department as it commands the public safety operation for Super Bowl® LIVE, the Big Game and other festivities. The Minneapolis Police Department, along with the support of officers from more than 50 Minnesota jurisdictions, are preparing for estimated 1 million Minnesotans and visitors to descend on Minneapolis and the surrounding communities.

The RANGER Pro-Shield® quad cab is fully-enclosed, and along with an industry-exclusive heating system, these customized RANGERs will keep law enforcement officers out of the Minnesota winter elements. The tailored patrol vehicles also have integrated law enforcement lighting kits from Federal Signal, the leader in innovative equipment and signaling products for first responders, adding another level of familiarity and ease of operation for officers.

"This is an exciting time for our home state and Polaris is honored to play a role in helping our local law enforcement create a safe and enjoyable experience for Minnesotans and visitors who take part in celebrating the Bold North™," said John Olson, PhD, vice president and general manager of Polaris Government and Defense. "Polaris Government and Defense was established to support the devoted and mission-focused customers who serve their country, state, county or city with vehicle offerings and accessories, like these RANGERs, specifically designed to meet event needs."

"The Polaris RANGERs are an important part of our security strategy. In confined urban environments, these vehicles allow us a lot more flexibility to navigate amongst the large crowds and provide our officers with unique and community-friendly response capabilities, which is important as we hope to convey a safe and friendly environment to the public," said Minneapolis Police Commander Scott Gerlicher, the public safety coordinator for Super Bowl® LII. "The Minneapolis Police Department uses RANGERs already and have found them to be incredibly valuable in these types of environments. In addition to being heated, the RANGERs are intuitive to operate, which is helpful since drivers may be federal agents, the State Patrol or other officers from around Minnesota."

Police and fire departments across the country use RANGERs for off-road utility and access, as well urban patrols and crowd control, because of their enhanced maneuverability on sidewalks and curbs, improved sight lines, snow mobility, and rescue capability where other vehicles can't reach.

As a founding sponsor of the Minnesota Super Bowl® Host Committee, Polaris is involved in a number of activities aimed at creating a unique experience for Minnesotans and visitors alike, and celebrating Minnesota and its 'Bold North™' spirit. On February 3, Polaris UpsideDowntown will feature professional snowmobile athlete Levi LaVallee performing a backflip over Nicollet Mall as a part of Super Bowl® LIVE Presented by Verizon®. Polaris is also providing the shuttle service for the Bold North® Zipline across the Mississippi River. Visit MNSuperBowl.com for more information.
Polaris Government and Defense | Mobility Made Easy™ | Polaris.com/Gov
Mobility Made Easy™, highlights how we make it:
Easy to purchase vehicles, through multiple contracting channels
Easy to operate our products with intuitive controls and best-in-class ride and handling
Easy to maintain commercial parts (i.e., easy access to common service components vs. custom, single-purpose components like traditional government contractor)
Easy to sustain our vehicles with support from the Polaris network, which provides training, service and maintenance without the costly overhead often associated with localized support
About Polaris Government and Defense
Polaris Government and Defense vehicles are forged from more than 60 years of off-road innovation and leadership. The commercial prowess and innovative culture of Polaris Industries are leveraged to deliver unique value to government entities and military forces worldwide. This dedicated division provides highly capable, simple to use, and affordable mobility platforms and vehicles that are readily available through easy procurement channels and supported through lifecycle training, service and maintenance from Polaris – the original equipment manufacturer, proudly born and headquarter in Minnesota.
Editor Note: For high-resolution images, video and data sheets, please visit our online media kit or contact Katie Paulson, kpaulsonpr@gmail.com.