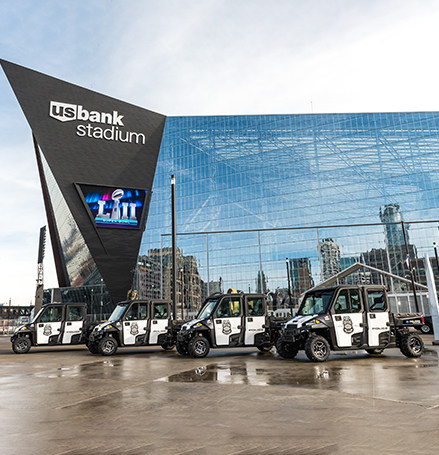 Polaris Vehicles Enhance NFL Game Day Security
The biggest football game of the year is here. The NFL has been committed to its fans near and far every Sunday, becoming a constant companion in a challenging year. Much like Polaris' commitment to providing solutions for our law enforcement partners across the globe – including on game day. With features such as enhanced maneuverability on sidewalks and curbs, improved sight lines, snow mobility and unique rescue capabilities, Polaris RANGER side-by-side vehicles have become a staple in police and fire departments across the country. Features that have also made the Polaris RANGER the ideal vehicle for aiding in stadium patrol, crowd control and enhancing game day safety.

Game Day Safety
More than 1 million Minnesotans and visitors ventured into the Twin Cities of Minneapolis and St. Paul in February 2018 for the Big Game. To help prepare for the influx, Polaris Government & Defense worked with Action Fleet to provide the Minneapolis Police Department with 10 customized RANGER XP 1000 EPS Northstar HVAC Edition side-by-side vehicles.

Specifically designed to meet the unique needs of the Minneapolis Police Department for the Big Game, the customized RANGERs were equipped with a fully enclosed cab and industry-exclusive heating system, helping keep law enforcement officers out of the harsh Minnesota winter elements. The tailored patrol vehicles also integrated law enforcement lighting kits from Federal Signal, the leader in innovative equipment and signaling products for first responders, adding another level of familiarity and ease of operation for officers.

"The Polaris RANGERs are an important part of our security strategy. In confined urban environments, these vehicles allow us a lot more flexibility to navigate amongst the large crowds and provide our officers with unique and community-friendly response capabilities, which is important as we hope to convey a safe and friendly environment to the public," said Minneapolis Police Commander Scott Gerlicher, the public safety coordinator for the event.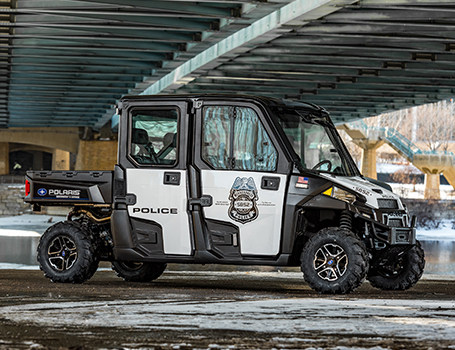 Rapid Response Ready
More recently, the Santa Clara County Sheriff's Office bomb squad had a customized Polaris RANGER XP 1000 on hand for Explosive Ordinance Disposal (EOD) during the 2020 NFC Championship at Levi's Stadium. Being the first-ever NFC championship game at Levi's Stadium for the San Francisco 49ers, it was expected that the stadium – and the parking lots – would be packed. Expectations that were not disappointed with a record breaking crowd of more than 72,000 filling the stadium. Like during any big game, local police departments knew they needed to be prepared for anything.

To ensure they were rapid response ready, the Santa Clara County Sheriff's Office worked with Polaris Government & Defense, MacGyver Solutions and RKO Enterprises to customize a Polaris RANGER XP 1000 into an EOD vehicle. Specifications included a fully enclosed cab compartment that included a steel roof, crank windows on all four doors, tip out glass windshield for ventilation and interior lighting. The vehicle included a 4,500-pound winch on the front of the vehicle, a rear aluminum equipment box with left, right and rear lockable doors allowing quick access from all sides, and a roof rack extending over the cab and equipment box. Additionally, emergency equipment included emergency roof light bars with the ability to flood light in any direction, and additional lighting around the cab of the vehicle and cargo box for added visibility and scene lighting.

The result was an EOD light support platform vehicle with the capability to mobilize a team of six and their mission specific equipment into confined areas and off-road situations.
"The small footprint of the RANGER makes it easier to traverse narrow walkways, dense crowds and indoor areas, like Levi's Stadium," said Sgt. Dustin Davis of the Santa Clara County Sheriff's Office special operations unit bomb squad. "Additionally, the RANGER is outfitted with bomb-response equipment that would normally be carried by individual bomb technicians during dismounted operations, and houses large equipment that would normally be stowed in a central location. Having access to some of the bulkier bomb response equipment makes the team more efficient and responsive during dismounted operations."
Whether its game day or not, law enforcement departments are committed to serving the needs of their community, and Polaris is committed to ensuring they have the right tools at hand for any job. For more information about Polaris government and public safety capabilities, visit Fire & Rescue Stories.