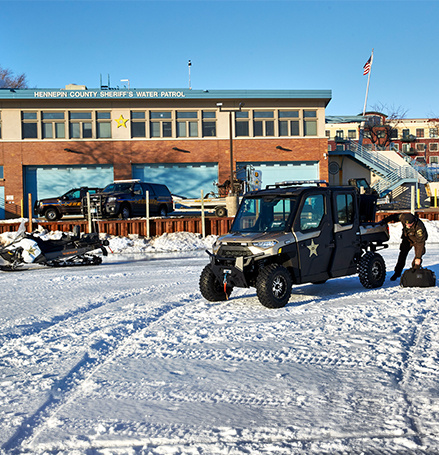 Hennepin County Sheriff's Office Water Patrol Traverses Treacherous Terrain with Polaris Vehicles
Over city streets and gravel roads, across wooded areas and open fields, along the lake shore and on frozen water, the Hennepin County Sherriff's Office Water Patrol Unit covers it all. Being faced with a variety of terrain, adverse weather conditions and hard-to-access locations, reliable off-road vehicles have become crucial for the Water Patrol team's success. For the past decade, Polaris vehicles have been a staple in the Water Patrol fleet to ensure that response time is swift, safety is never sacrificed, and flexibility is always possible.
Winter Weather Response
Minnesota is known for its outdoor winter activities as much as for its heavy snowfalls, and the Water Patrol team knows all too well how quickly outdoor adventures can turn into medical emergencies. Positioned on the shores of Lake Minnetonka, the Hennepin County Sherriff's Office Water Patrol is responsible for the county's largest and busiest body of water. At 22 square miles of lake and 125 miles of shoreline, responsibility includes water, shoreline and frozen lake terrain.
"Our first purchase with Polaris was a fleet of ten snowmobiles to aid in winter patrol, as well as in search and rescue missions," said Lt. Shane Magnuson, Hennepin County Sheriff's Office Water Patrol. "The snowmobiles provide us the ability to successfully respond to all emergencies in heavy snow conditions, especially those where snow drifts are too deep for traditional vehicles to drive through."
Specifically, Lt. Magnuson recalls one incident where their fleet of Polaris snowmobiles helped them get to a rider who had rolled his snowmobile driving over an uneven ice ridge on frozen Lake Minnetonka during a night ride. The Water Patrol team was able to respond immediately and do a wide search of the area, quickly finding the injured rider.
The success of the snowmobiles and Water Patrol's positive relationship with Polaris, led to the acquisition of two Polaris Sportsman all-terrain vehicles (ATVs) in 1999. The Sportsman ATVs have proven invaluable in quickly deploying teams to calls on frozen waterways, where traditional vehicles would require chains or studded tires. Additionally, the ATVs small footprint and ability to safely cover treacherous terrain have helped in conducting search and rescue missions in remote areas, like the lake's many islands, where access is often impossible for traditional vehicles.
Squad Car Comfort Meets Off-Road Ruggedness
In 2006, Water Patrol was looking for a lightweight enclosed vehicle they could use for conducting routine patrols on frozen lakes throughout the county. Polaris vehicles had already proven to be flexible, easy to maintain and durable, so the team again turned to Polaris to expand their fleet. This time it was with the Polaris RANGER UTV.
"The four-door RANGERs allow us to operate freely in both an urban and a rural environment, providing flexibility in getting to areas that our squad cars can't access," says Lt. Magnuson. "The RANGERs also keep deputies comfortable for ten-hour shifts, as well as ensure that they are safe from the elements – whether they are at an event in downtown Minneapolis, in a swamp or out on the ice."
Water Patrol selected RANGERs with a fully-enclosed cab and heating and air-conditioning for use in all seasons. Equipped with a bench seat that allows the team to operate with duty gear on deputies' belts, space to carry all relevant rescue gear for the season and the ability to cover nearly any terrain, the RANGER has become a key member of the Water Patrol fleet. Additionally, the UTVs provide passenger capacity that is restricted with the snowmobile and the ATVs, allowing the Water Patrol team to safely transport additional passengers or medical professionals. An added rear box cover ensures gear stays dry, and a light bar with scene lighting increases visibility.
These features have been essential for the team, but especially when responding to a winter plane crash in the remote area of the Crow-Hassan Park Reserve. The UTVs were used, along with snowmobiles, to safely navigate the remote area while transporting necessary medical equipment and government personnel.
The Polaris Difference
Since beginning its relationship with Polaris more than a decade ago, the Hennepin County Sheriff's Office Water Patrol Unit could not be happier with the products and service they have received. Their current fleet includes six Polaris Ranger UTVs, two Polaris Sportsman 570 ATVs and eight Polaris snowmobiles. The vehicles are used for a variety of jobs, including search and rescue missions, general area patrol, ice safety, ice rescue, and patrolling large events.
"Polaris vehicles continue to allow us to respond to calls in a timely manner, but they also give us the flexibility to accommodate a change of mission that can happen during the day, not just a change in season," added Lt. Magnuson.