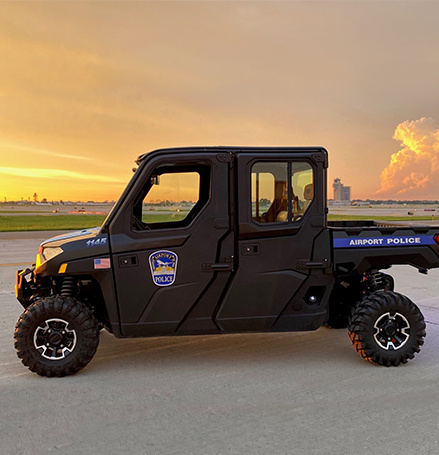 MSP Airport (MN) Police Department makes use of their new RANGERs
As one of the largest police forces in Minnesota, the Minneapolis-St. Paul (MSP) Airport Police Department is responsible for promoting a safe and secure environment at the airport campus and areas surrounding it. MSP International Airport's campus covers about four square-miles and includes a wide variety of terrain – and in central Minnesota – a wide variety of weather as well. Searching for an alternative vehicle to safely patrol roads, runways and ramp areas, the department explored Polaris off-road vehicles, and purchased two RANGERs in the spring of 2019.
In all environments, the RANGERs demonstrate low-speed drivability and increased agility required for airport campus patrol. The tight turning radius allows the vehicle to access spots near passenger boarding bridges and alongside parked planes where it is difficult to maneuver a full-sized vehicle. Additionally, the airport's Special Operations and Investigations Division use the RANGERs for fence-line inspections, which requires off-roading and often a lot of starting, stopping, and hopping on and off the vehicle.
"The RANGERs allow us to do a thorough inspection of our perimeter and make the work more efficient," said Jason Erickson, MSP Airport Police Lieutenant. "We also use the RANGERs to patrol roads for passenger traffic, monitor the multiple runways and extensive ramp areas used by airplanes and other airport vehicles, along with large parking ramps, broad sidewalks with pedestrian traffic and grassy off-road areas."
"Our department's Emergency Response Team train extensively with the Polaris RANGERs," said Lt Erickson. "The RANGERs and on-board stretcher give us the capability to deliver personnel or supplies to a scene or evacuate personnel – so our response time and capability is significantly enhanced."
In addition to typical airport duties, the department makes use of their RANGERs for special events.
"The Polaris RANGERs give officers a more approachable, lower profile vehicle than a patrol car, while still allowing us to do our jobs," stated Lt. Erickson. MSP Airport Police Officers use the RANGERs for Dignitary Details, including a recent Memorial Day Ceremony at Ft. Snelling National Cemetery.