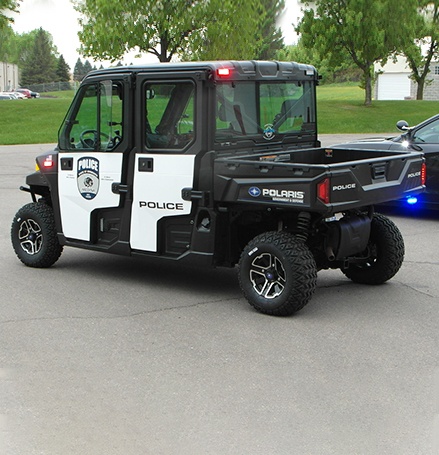 Medina (MN) Police Department Selects Ranger Northstar UTV
Medina is a suburb of Minneapolis that offers a balance of a rural city feel and a growing urban community with a population of around 6,000 people. Due to the growth of residential developments, the Medina Police Department has kept busy within its community. Officers enjoy engaging with citizens and being available to support the many different needs the city has, ranging from patrols and parades to car shows.
Smaller Vehicle Needed To Monitor City Parks & Trails
Medina officers serve in many capacities and are agile to fit the needs of their community, typical of a smaller police department in a growing city. To augment their fleet of traditional squad cars and SUVs, the department required a smaller vehicle to aid the officers when monitoring city parks and trails or responding to off-road emergencies, expanding their reach. Medina Police Department purchased a Polaris RANGER in April of 2018.
Fully Customizable UTV With Law Enforcement Equipment
"The department was looking for a UTV that could assist with multiple functions and the Polaris RANGER fully equipped with law enforcement equipment was most suitable for that," said Jason Nelson, Medina Police Chief and Director of Public Safety. The RANGER XP 1000 Northstar Edition came completely customized to MPD's desires with features like lighting and a full cab with heating/air-conditioning. Additionally, the Medina Police Department wanted to use the vehicle at the Auto Motorplex, a 'car condo' in Medina that hosts car shows with many attendees a couple of times a month. At the Auto Motorplex events, Medina Police Department is responsible for controlling traffic, responding to medical and service calls, and much more, which makes the RANGER a perfect addition to their fleet. It can navigate the tighter spaces between garage stalls and crowds and still haul the necessary equipment to allow officers to respond quickly and appropriately.
Law Enforcement UTV Beneficial For Search & Rescue
Chief Nelson also communicated how beneficial the vehicle has been during search and rescue missions, especially in hard to reach places. A specific incident that Chief Nelson recalled involved a missing juvenile who was in a hard to reach area. They deployed the RANGER, which helped them access the isolated area quickly and safely, without issue, to find the child and return them home safely.
RANGER Northstar Increases Community Engagement & Provides Security
For Medina community events like parades, the RANGER has served the department well, providing engagement, general patrol, and security. The full cab extends the RANGER's utility across all four seasons in Minnesota, especially since inclement weather and extreme temperatures can cause added danger to an emergency.
"We love this vehicle almost as much as the kids do," said Nelson. "Whenever we bring it to an event, it attracts a lot of attention and provides our officers with the opportunity to engage at another level within our community. And that's an important element of our oath to serve and protect the city of Medina."