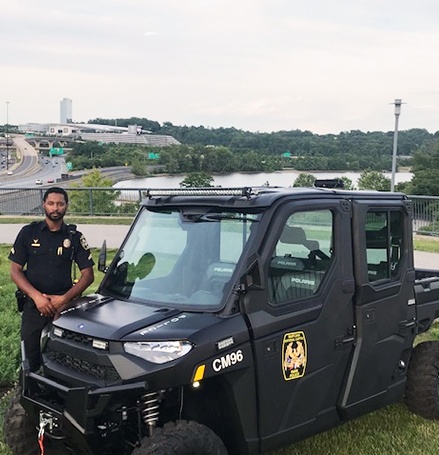 Maryland-National Capital Park Police
Prince George's County, Maryland, a suburb of Washington, D.C., has many parks – around 28,000 acres worth to be exact. Maryland-National Capital Park Police (M-NCPP) is responsible for patrolling and protecting every acre of park property, and it is sometimes difficult to access all areas.
This became clear during an intense emergency search and rescue. Officers had a traditional squad car which was unable to access remote areas of the park. This continued on foot, resulting in physical injuries for one of the officers. Soon after, the department began searching for a vehicle that could keep up with the terrain of the parks, provide an alternative to the current fleet of traditional vehicles, and ultimately allow the officers to better serve the community.
In April 2020, M-NCPP added a Polaris RANGER Crew NorthStar with a Remote Rescue Patrol Kit to their fleet. RANGERs are built to provide power, comfort, and efficiency with many options for customization, including custom graphics to mirror the rest of the Park Police's fleet.
"The community was very supportive of the new RANGER and they are reacting well to the new, smaller profile vehicle," said Lieutenant and Public Safety Liaison Gregory Ford, Maryland-National Capital Park Police. "Having a reliable resource for citizens to cool off from the summer heat has garnered a lot of positive reactions from the community."
The off-road capabilities of the RANGER, coupled with a full, air-conditioned cab, benefits the community and the officers because the Mid-Atlantic region often experiences temperatures over 90° F in the Summer months. The RANGER provides a cool space for both citizens and officers who might overheat in the sun.
Summertime is the busiest time of the year for the Department of Parks and Recreation. Festivals and large events bring in several thousands of people to the community's parks. "Using the RANGER instead of a traditional police car provides more opportunities for our officers to connect with citizens. We found the RANGER is much more approachable," said Lt. Ford.