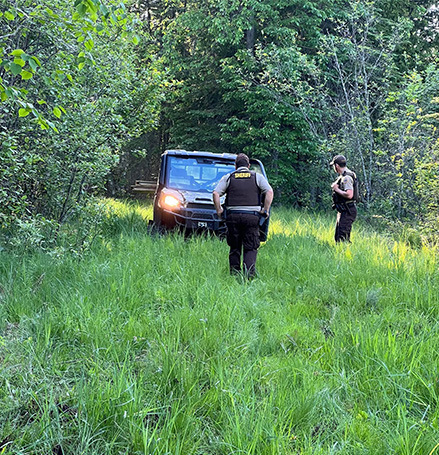 RANGER UTV Aids in Horse Rescue
What started as a relaxing horseback ride, turned into stuck horses, stranded riders and an all-hands rescue effort by a local county sheriff's department. In mid-June, two horses and their riders began to sink in a bog after encountering flooded trails in Three Island County Park in northern Minnesota. According to the Beltrami County Sheriff's Office, the horses became uneasy when they began sinking and ran further into the bog, eventually losing all ability to get out.
When deputies were alerted of the stranded riders and their horses, they knew exactly what was needed – Oriented Strand Board (OSB) sheets and their Polaris RANGER UTV.
Situational Awareness
During the outing, the horseback riders were constantly aware of their surroundings and knew exactly where they had been prior to the horses getting spooked. Armed with this knowledge, they provided a detailed description to 911 dispatch of which trail they were on and direction they were going. This allowed the Beltrami County Sheriff's Office not only to be able to locate the riders quickly, but to understand what was needed to access them.
"The riders were stuck in an area only accessible by foot, bike or horse during the summer months," said Sergeant Sam Lundquist of the Beltrami County Sheriff's Office. "So, we grabbed our Polaris RANGER UTV due to its off-road capabilities and its ability to navigate tight spaces. Nothing else can get our teams safely and efficiently to the remote locations that make up much of Beltrami County quite like the RANGER can."

Navigate and Rescue
In preparation for the rescue, the Beltrami County Deputies worked with the Bemidji Fire Department to secure ten 4x8 OSB sheets. They then used the RANGER UTV to haul the boards as close to the stranded riders and horses as possible.
Once on site, Beltrami County Deputies, a MN DNR Conservation Officer and a MN State Trooper used the OSB sheets to create a floating bridge for the horses to walk on – leap frogging the sheets for approximately a quarter of a mile until ground was solid enough for the horses to feel comfortable walking on. The entire rescue took just over four hours.
The RANGER Response
With its compact profile, increased payload and agility, and off-roading capabilities, the Beltrami County Deputies knew their RANGER UTV was the vehicle for this job – to both carry the OSB boards, and to get to the location quickly and securely. The addition of tracks to the vehicle provides the ability to traverse over the mixed and soft terrain without worry of getting stuck.

"We have had our RANGER XP 900 for nearly 12 years and use it consistently throughout the year," said Sergeant Lundquist. "In fact, since the rescue in Three Island County Park, we've already used it again in response to another remote outdoor incident that required off-road rescue capability."
To learn more about the Polaris line of RANGER UTVs, visit: https://military.polaris.com/en-us/brands/ranger/.
Photo Credit: Beltrami County Sheriff's Office