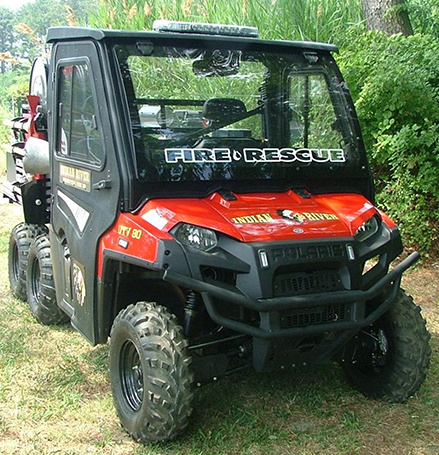 Polaris RANGER Increases Mobility for Indian River Volunteer Fire Company
Surrounded by community farmlands and wooded areas in Sussex County, Delaware, Indian River Volunteer Fire Company needed a vehicle that could navigate hard-to-access areas quickly and effectively. After receiving a community block grant from the USDA a decade ago, the department turned to Polaris to help overcome these challenges with the addition of a RANGER UTV that is fully equipped with an ultra-high pressure (UHP) system for fire response. Today, the county's rural areas are becoming less vast as urban growth abounds. While new growth brings new challenges for the volunteer group, the Polaris RANGER continues to be the department's go-to response vehicle for increased mobility and response efficiency throughout the region.
From Crops to Crowds
"We first purchased the Polaris RANGER ten years ago, with the main focus on providing response to our rural areas and hard-to-access wooded locations," said Patrick Miller, president, Indian River Volunteer Fire Company. "Additionally, we wanted to add an off-road vehicle with a small footprint that kept crop disruption to a minimum during calls to area farms."
With a small footprint, durable off-road capabilities and increased mobility to navigate rugged and tight areas safely and efficiently, the RANGER quickly became the preferred vehicle for response to brush fires, hunting accidents and calls from community farms. Additionally, being equipped with a full fire kit that includes a 100-gallon integrated water tank, fire suppression foam system, UHP hoses, and emergency lighting enabled the department to replace one of their trucks completely.
With the increase in population and growth of urban areas, today the department also relies on the agile RANGER for crowd and beach patrol, as well as for emergency calls to golf courses and hard-to-reach residential areas. The department also deploys the RANGER UTV for crowd control during area festivals in the popular Rehoboth Beach, many of which attract hundreds of thousands of attendees.
Successful Search and Rescue
In spring of 2021, the Indian River Volunteer Fire Company was requested to assist the Delaware State Police with a search for an elderly man that had gone out walking in the cold evening and hadn't returned. Emergency response units from Indian River staged and coordinated a search plan and grid from the local elementary school with units responding to all nearby areas which included inland bay, rural developments, and farm communities. Units were assigned to search developments and easy-to-access side roads along many of the areas with emphasis on the area's residential developments. The Polaris RANGER was tasked with searching hard-to-access areas behind shopping centers, multi-residential apartment complexes, a residential community golf course, bike paths, open fields and a newly cleared wooded construction area.
During the search and rescue efforts, a call came into the county 911 center reporting a sighting of a man earlier in the evening. Based on the information received, the department immediately deployed the RANGER to navigate through the off-road, tree-lined area located along a field hedgerow. The individual was located within minutes of getting to the area, emergency services were requested, and he was quickly transported to nearby medical facilities where he was treated for hypothermia. Thanks to the quick response of the teams, he made a full recovery.
"When we were first introduced to the Polaris RANGER at the FDIC Fire Conference a decade ago, we immediately knew it would be the perfect addition to Indian River Volunteer Fire Company and Sussex County," said Miller. "Over the years, the vehicle has been put to new challenges as we've transitioned from a majority of rural areas to increased urban development. But with everything we've thrown at the RANGER, it has stood the test of time, every time."