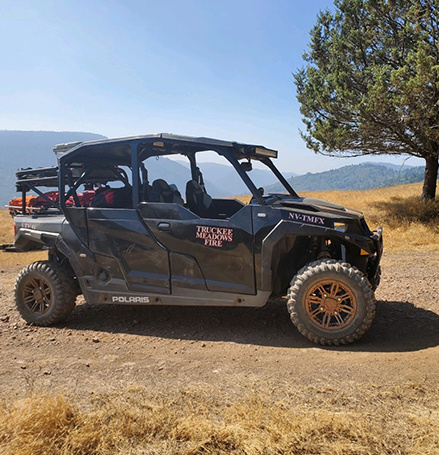 Truckee Meadows Fire & Rescue Increases Wildland Firefighter Rescue Safety and Efficiency with Polaris GENERAL
Surrounded by national forests, mountain ranges and lakes, Truckee Meadows Fire & Rescue in Washoe County, Nevada, knows a thing or two about living in a scenic wonderland. They also know a thing or two about fighting wildfires – and understand the critical need for a wildland firefighter extraction program. Civilians aren't the only ones that need timely and safe evacuation from wildfires – when firefighters are injured, they are often in austere and inaccessible areas. The Rapid Extraction Module (REM) program helps mitigate those dangers with specially trained and fully equipped emergency medical teams to help firefighters egress safely off the fireline. In 2018, Truckee Meadows added two Polaris GENERAL side-by-sides to further foster the REM program's success – with another GENERAL added in 2020.
Risk Assessed and Reduced
Establishing a REM program with a pre-staged rescue team provides wildland firefighters with safe, effective and efficient methods of egress in the event of injury during operations. While putting this team in place has increased ability of extractions, it wasn't without risk.
"Our wildland firefighter extractions are often in remote or hard-to-access locations," said Truckee Meadows Fire & Rescue Captain Brian Bunn. "Areas that our fire trucks and emergency vehicles couldn't reach, leading us to have to figure out how to transport our injured firefighters a mile or sometimes two to get to our full-serviced medical vehicles."
The department found themselves using helicopters to aid in remote extractions, but those add a risk to the operator and crew of the helicopter – and for minor injuries, it was a risk that often seemed greater than necessary. To better enhance the program and provide appropriate tools and equipment to the REM team, the department began researching utility vehicles.
With a crew of four, aggressive training in ropes systems and extraction, the REM team is well-prepared with a precise plan in place for every rescue. The decision to add Polaris GENERAL side-by-sides to the fleet was much the same. After an exhaustive review of utility vehicles on the market, the team turned their focus on Polaris. With previous experience of Polaris vehicles – including two Polaris RANGERs used by the department – the team knew that the GENERAL 4 side-by-side was the best fit for the job. And its off-road power and capabilities, agile performance, easy drive-ability, and customization options for REM specific operations have become invaluable to the team.
Customized for Multi-Mission Capabilities
"With our specific mission at hand, we knew that any vehicle purchased would require some customization, and the GENERALs were incredibly easy to update – including adding a bed for victim transport into the cab," said Captain Bunn. "We wanted the bed inside the cab to keep our injured occupants as safe and comfortable as possible, as well as be as efficient in transporting occupants to full-medical care as possible. Keeping 80 percent of any added weight inside the rear axle ensured vehicle performance and ability was never sacrificed."
With rescues often being in remote, rugged, and hard-to-access areas, the small footprint of the GENERAL allows the team to navigate around trees and tight spaces. Coupled with its ability to traverse nearly any terrain with ease, the vehicle has become a critical component for getting injured personnel out of harm's way without added risk. It has also become the go-to vehicle for assisting the local Sheriff's Department in search and rescues.
"We are conducting a rescue from an area mountain or remote location every six to seven weeks," said Captain Bunn. "While the Sheriff's Department is the designated department for all county search and rescues, they've relied heavily on the partnership with our team and our vehicles to help ensure successful rescues and safe transport in any condition."
Real-World Success
While the department's forte is in firefighting and the REM program's wildland firefighter extraction, the department seemingly does it all when it comes to search and rescue support. And when a call came in for aid during a vehicle rollover occurring in blizzard conditions, the department responded immediately with the GENERAL side-by-side in tow. But the vehicle wasn't just used for transport in the snowy conditions – after carefully getting the rollover victim into the GENERAL, it was realized care was needed due to critical traumatic arrest. Thanks to the quick thinking and training of the crew, and safe and steady environment of the GENERAL, crew members along with Care Flight were able to successfully intubate the victim, keeping them in stable condition while transporting to full-medical care.
The GENERAL side-by-sides have become such a critical component in the department's rescue arsenal that in 2020, they added a third to their fleet. In addition to extraction and search and rescues, the department uses the vehicle for event patrol and support, and carrying people, equipment, and fuel – including water tanks for small fire response. Truckee Meadows Fire & Rescue also uses the side-by-sides to assist neighboring communities and departments when necessary. The REM team even took the GENERAL vehicles to Washington and California to aid in wildland firefighter extraction during the wildfires of 2020.
To learn more about the Polaris GENERAL, visit https://military.polaris.com/en-us/brands/general/.