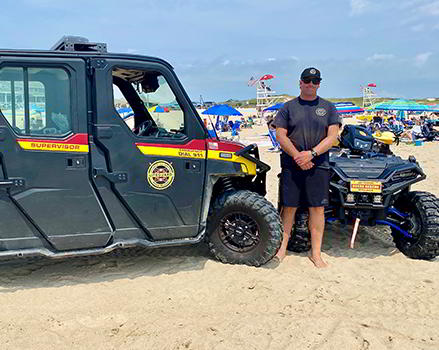 East Hampton Village Ocean Rescue Is Beach Ready with the Polaris RANGER
When it comes to emergency response, timing is critical. In beach rescues, that make-or-break timing can come down to the agility of a vehicle – especially when driving through crowded areas and over soft sand.
To improve rescue response time, East End Ocean Rescue (EEOR) – a non-profit that provides effective lifesaving equipment, techniques and education materials to coastal beach rescue teams – recently turned to Polaris to add a RANGER Crew NorthStar UTV to their partner organization East Hampton Village Ocean Rescue (EHVOR). Comprised of more than 80 ocean lifeguard certified rescue swimmers, EHVOR provides emergency response for expeditious and safe water rescues year-round at all public beaches in the township of East Hampton. The RANGER is equipped with a rescue skid and emergency light package to fully support the lifeguards during response and rescue situations.
The Polaris Difference
With more than 45 years' experience in lifeguarding and ocean rescues, Jimmy Minardi, Chief of EHVOR and EEOR founder, understands the intricacies of what's needed for beach patrol, rescue and response. This knowledge has ensured that only the most effective and efficient equipment is used. So when it became apparent that an enhanced response vehicle was needed, Minardi knew it had to be capable of responding quickly, safely – and while hauling the necessary EMS tools to keep people stable and safe until full medical care is reached. What he didn't know, however, was how long it would take to find that diamond in the rough.
"Beach rescue is truly in a category of its own, and there aren't many vehicles designed with that in mind," said Minardi. "We've been working with Polaris for the past five years, and after really digging into the possibilities with them and other companies out there, we knew that the Polaris UTVs – that could be customized to fit our unique needs – were the best choice for our team."
While the team had been leaning toward Polaris vehicles for some time, the ultimate selling point was experiencing the versatility of the vehicle during a multi-agency, hands-on training held in Pound Ridge, NY the fall of 2021. With four Polaris RANGERs and one GENERAL on site, the three-day training contained an overview and demonstration of the ins and outs, benefits and capabilities of the vehicles. The training – both during day and night conditions – gave attendees the chance to operate the UTVs in challenging terrain and hard-to-access locations, while performing simulated rescues. Multiple Polaris experts were also on hand to answer all questions from vehicle design and engineering to operating capabilities to vehicle customization and procurement.
The training gave Minardi a first-hand look at the Polaris RANGER capabilities, and hands-on driving experience in challenging locations. It also provided insights into options for customization, how the Polaris UTVs complement other emergency vehicles and how it would perform on sandy beaches.
Increased Agility and Maneuverability
Traveling across rugged beaches has proven challenging – if not impossible – for many emergency vehicles and trucks. And when timing is everything, getting stuck in sand isn't an option. Additionally, with upwards of 1,000 people gathering on the beaches at any given time during the popular summer months, a vehicle needs to be able to move easily across the terrain while also navigating through sunbathing crowds.
With 11-inch front and rear travel suspension, 13-inch ground clearance and heavy duty, puncture-resistant tires offering unrivaled traction, the RANGER operates through uneven, rugged, and unexpected terrain with ease. Additionally, three-position, user-selectable throttle control makes vehicle operation safe, easy and smooth – adding operator confidence even when making abrupt turns or stops.
Further equipping the UTV with a PA system allows operators to provide warning for beachgoers to stay out of the way – allowing the vehicle to navigate through crowds with limited worry. And professional decals added to the sides of the vehicle ensures there is no question who is coming through.
Rip Current Interceptor
When it takes a mere 45 seconds for a drowning to occur, there is zero room for error. The fully equipped RANGER was the addition the EEOR team had been hoping for. In addition to enhanced performance, the RANGER is outfitted with first aid, oxygen and critical EMS equipment to ensure individuals can be treated for injuries immediately while transported securely and safely to proper medical services.
"Designing and perfecting a vehicle for ocean patrol, response and rescue has been years in the making – and we couldn't be more thrilled with our partnership with Polaris," said Minardi. "We're calling the UTV our Rip Current Interceptor. And now that we have it in our response toolkit, we're looking forward to helping ocean rescue departments across the coast add the UTV to their fleets, as well."
The team also added a Polaris Sportsman ATV to their rescue fleet, which they also upfitted with emergency equipment.