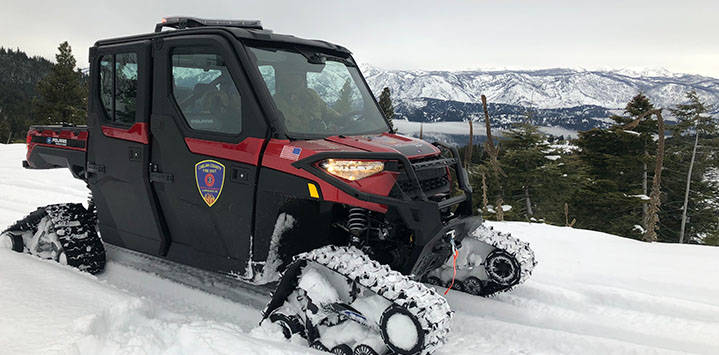 Chelan County (WA) Fire District 3
Prompted by the death of a snowmobiler in a remote, mountainous location, the Chelan County (WA) Fire District 3 began a winter rescue program, which was intended to increase preparedness of the department for the challenging winter weather and backwoods conditions. The program recently added to their vehicle fleet by buying a third snowmobile and a Polaris RANGER CREW XP 1000 off-road vehicle, enhancing their ability to reach people in need of their services.
"Tragedy took place to help us realize that this type of equipment was needed," said Chief Kelly O'Brien with Chelan County Fire District 3.
In 2017, a local man was snowmobiling in a remote section of the Cascade Mountains in Chelan County when he suffered a heart attack. The air rescue team was able to find the man, but the snow was so deep that paramedics were not able to stabilize him enough to get him back to the helicopter. The team had to borrow a couple snowmobiles from local citizens to transport the patient. Unfortunately, moving the victim this way took extra time and the man died before they could get him to safety.
Having learned they did not have the equipment they needed for remote winter rescues, the Fire District put together a program to prevent such a tragedy from happening again. A generous donation from the victim's family and discounts from various manufacturers allowed them to get the program off the ground. Since the fire district is often called into service in the middle of winter, it is often difficult to transport victims by snowmobile. They decided they needed a rugged and reliable RANGER CREW UTV with snow tracks to be able to reach the sometimes-inaccessible corners of the county.
The Chelan County fire district is excited about the recent addition to their rescue fleet. The team hopes to avoid further tragedies by taking advantage of the unique capabilities of their new RANGER.
Read more about the formation of the Chelan County Fire District winter rescue program here: