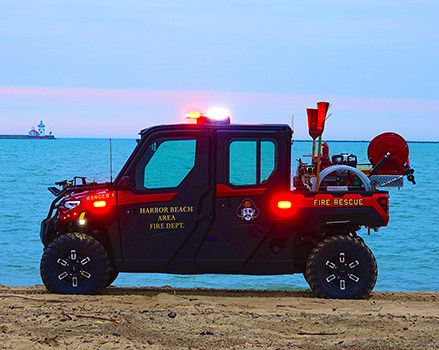 Harbor Beach Area Fire Department Beefs Up Abilities with Polaris RANGER
As a fifth-generation fire chief at Harbor Beach Area Fire Department and with 22 years of personal experience on the job, Chief Jason Lermont knows what it takes to be successful – from training to personnel to equipment. Traditional equipment only goes so far in fighting fires in the agriculture fields and wooded areas that surround the rural Michigan community. And tight budgets for the volunteer department didn't leave room to supplement their fleet until the community received public safety grants from the U.S. Department of Agriculture. With these new funds, Chief Lermont wanted a vehicle that could comfortably get off-road while carrying the necessary gear and personnel – and the Polaris RANGER XP 1000 North Star Edition was the UTV he envisioned.
Made for Fire Fighting
"It's like the RANGER was made for fighting fires – the added fire and rescue response package is flawless," said Chief Lermont.
Equipped with the full Polaris fire and rescue accessories package, the Polaris RANGER ensures the department is ready to go at a moment's notice. With a water tank and foam system, fire pump and hose, the RANGER has everything the department needs to fight fires without having to pull an additional trailer. The UTV is also equipped with emergency sirens and lights for increased visibility and awareness through smoke and night operation, and a removable stokes basket for transport during rescues. Additionally, the North Star edition of the RANGER has a full cab that is complete with heat and air conditioning – making it ideal for use through Michigan summers and often adverse winter conditions. To fully customize to fit their needs, Harbor Beach Area fire department also added two fire brooms to help suppress small fires and tools for digging through debris.
"I'm glad the vehicle is intuitive – being able to jump in the RANGER and go, knowing all the tools are in hand, is crucial for reducing response time," Chief Lermont said. "It's also what drew us to selecting the Polaris RANGER."
Response time is critical when responding to any fire, and this is especially true when responding to brush fires or fires in wheat fields where flames can quickly get out of control and spread beyond containment. With off-road capabilities and heavy-duty tires, the RANGER also allows teams to navigate rugged and hard-to-access areas safely and efficiently, helping put out fires and getting teams in and out of challenging areas without delay.
Real-Life Response
While the Polaris RANGER had been on Chief Lermont's mind for some time, he credits adding one to their fleet to the grant. Without it, Lermont notes, the RANGER would have continued to be out of reach for the rural volunteer fire department.
"It's a vehicle that you may not use all of the time, but when you need it, you're glad you have it," said Chief Lermont. And since adding the vehicle to the fleet in early 2021, it has already been put to the test.
When the department was alerted of an area brush fire, they immediately knew the RANGER was the vehicle for the job. The small-scale UTV allowed the team to efficiently maneuver through the tight and overgrown pathways to get to the fire and they were able to put out the flames immediately with the tools at hand. A process that would have been time-consuming, more costly and nearly impossible with a traditional sized firetruck.
Utility Amplified
Being faced with a variety of terrain, adverse weather conditions and hard-to-access locations, Chief Lermont knew that having an off-road vehicle in their arsenal would only heighten the department's success. With its right size and increased mobility, the department has plans to also use the UTV for traffic control, patrolling area fairgrounds during local fairs and navigating the crowds during the town's festivals. Additionally, the department occasionally gets called to aid in water rescue because of its location on the shores of Lake Huron. Chief Lermont knows the RANGER's off-road capabilities and versatility will be ideal for beach access and water response if necessary.
Chief Lermont also realized with the relatively small area his department covers – an area of 36 square miles – the RANGER wouldn't be needed at all times, but he wanted to ensure that it was put to use as much as possible. When writing the grant, he contacted neighboring communities to see if it would be a vehicle that their departments would be interested in using as well. With its intuitive design, the RANGER has been easy for the volunteers of Harbor Beach Area Fire Department and the neighboring fire departments to share – train on and feel comfortable operating – ensuring that it's response-ready for whoever needs it.