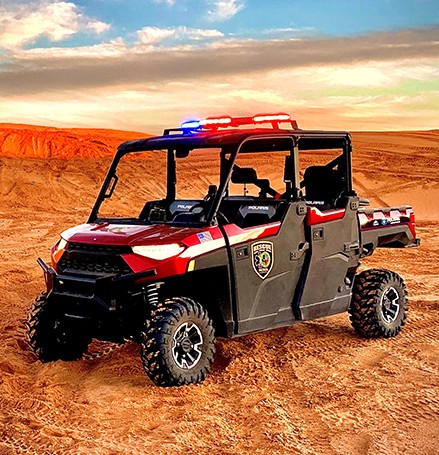 Texas Rescue Patrol
The Texas Rescue Patrol (TRP) is an "all-volunteer" division of Texas Recreational Safety and Land Management, a 501(c)(3) nonprofit and Texas State Licensed EMS First Responder Organization. The TRP works primarily in the Red Sands area of west Texas around El Paso. They also maintain partnerships and agreements with many localities in west Texas, resulting in a potential response area of more than 4,500 square miles.
As a public charity, they do not charge for any of the services they provide to the community and they fund activities through grants and donations from the communities they serve. Additionally, they are affiliated with an off-road adventures company that rents UTVs to the public. This adventures company donates profits to the TRP, providing a significant portion of their operating budget. The company – Rent An ATV Off-Road Adventures – also happens to be a Polaris Adventures destination.
The TRP does outreach on environmental issues, participates in disaster recovery efforts and provides emergency medical service to communities in their response area. They also conduct safety education courses for operators of all-terrain vehicles (ATVs). Texas consistently ranks in the top 10 states for ATV accidents, which prompted the state to require anyone operating an ATV on public land to attend a safety course and be certified to operate their vehicle. The TRP team conducts these ATV certification training sessions free of charge, making them available to most ATV owners.
The TRP uses their Polaris RANGER XP 1000 primarily in off-road rescue operations. The Red Sands area around El Paso, where the TRP is based, is a hotbed of off-road sports. Volunteers are available to respond to accidents and medical emergencies in the area 24/7. The TRP leadership report firing up their RANGER on a daily basis – using it to get to an accident or participate in search and rescue operations. Since much of the area TRP covers is sandy Texas dessert, having a vehicle that can get volunteers where they are needed is one of the biggest challenges they face. The volunteer rescuers report being able to get to the emergency safely and securely as one of the primary benefits of their new RANGER.
"It cuts down our response time because we're not going to have to worry so much about …[getting] stuck ourselves on the way to a call," Volunteer Mike O'Connor said.
The team also likes the fact that their RANGER can accommodate multiple volunteers and a nonambulatory patient. This allows them to be fully staffed when they go out to handle a call for service and still have room to transport more than one patient if necessary. In addition to a removable Stokes basket, the TRP's RANGER is outfitted with all-terrain tires, side search lights, a colored lightbar, a siren and a PA system.